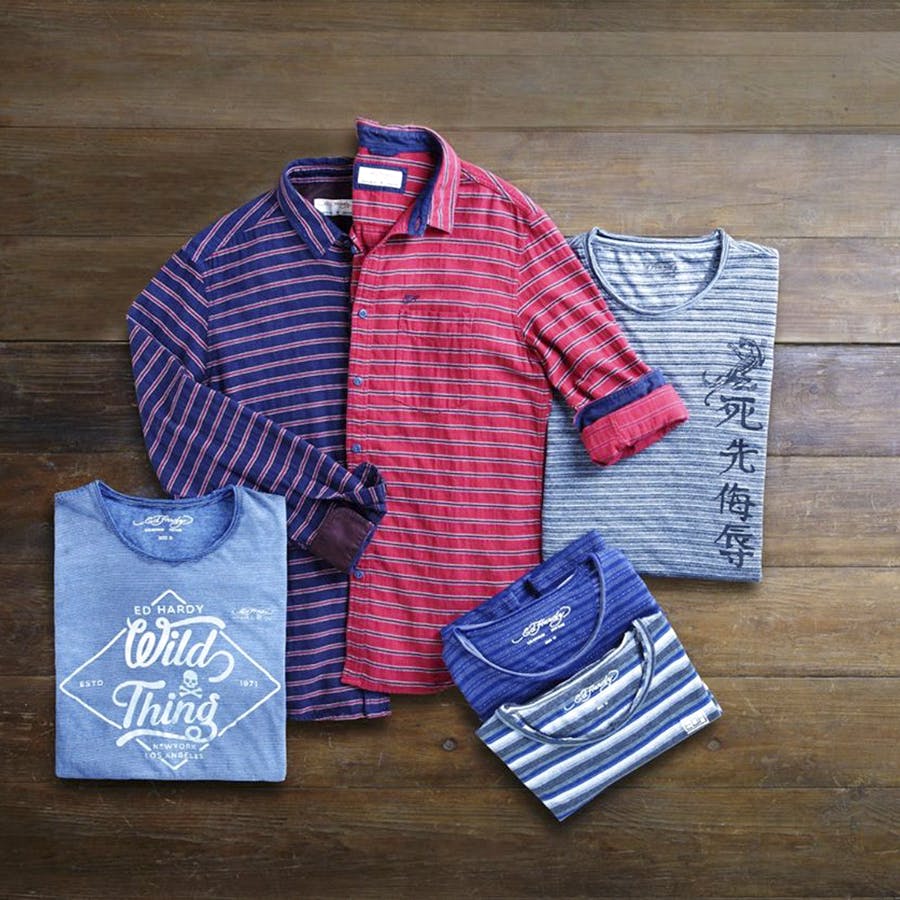 Ed Hardy To Raymond: Best Of Men's Fashion
Let's face it, most men like to shop easy and quick. But there's also that kind that would like to take time in selecting each piece of clothing. In either case, if you are heading to one of Bangalore's first malls (yeah, it's that old, but still happening) here's an easy guide to the best men's store in Garuda Mall. Also, if you are heading there with your girlfriend, BFF, or sister, we recommend you ask them to take a look at our women's store's in Garuda Mall as well.

Shopper's Stop
The only men's multi-brand store on the ground floor of Garuda Mall, head here to pick up formal wear such as slim-fit shirts, trousers, casual wear such as graphic tees and jeans, and pretty much anything you need to upgrade your wardrobe. They have brands such as Levi's Jack & Jones, United Colors Of Benetton, US Polo Assn., Arrow, and Park Avenue.

Cadini Italy
Take the escalator to the first floor and head here to get sharp fitting suits, trousers, formal shirts, and coats and blazers. Boardroom meetings, wedding reception, or when you realise that you need to invest in a good two-piece suit, Cadini will have you sorted out even when you have set a budget for yourself.

Ed Hardy
When you can't do without graphic tees and ripped jeans, Ed Hardy is where you need to head to. The American brand will fix you with denim options such as jeans, and jackets while also stocking up on leather jackets, plaid and checkered shirts. They have streetwear that's perfect for the night out with the boys.

Jack & Jones
Friday look, brunch look, and casual look -- get the look of the day with the extensive collection of jeans (slim fits, skinnies, and even regular fits), shorts in solids as well as prints, tees both with slogans as well as in plains, and full-sleeved and half-sleeved shirts that are either perfect for date night or work best for a Friday office wear with a pair of jean. The best part is there's plenty to choose from and enough styles to mix and match.

Raymond
Need we say more about this brand? Bespoke suits -- coats/blazers, two-piece and even three-piece -- that fit you exactly the way you want it to is what these guys do best. Shirts and trousers can also be made-to-order here. What you love most about the store is the collection of fabric for suits and shirts that go beyond the blues and blacks. Think pastels and solids such as maroon and burgundy for shirts and fifty shades of grey for suits.

Westside
The store is crafted for men who love tried-and-tested styles that involve minimal time to find something you are looking for. Extensive collection of jeans of various styles in one section, formals in another, and casual wear in yet another section, walk-in, grab your size and styles, and head to the checkout counter. At least that's what we do here anyway.

US Polo Assn.
When you want to look smart and spiffy but don't want to really invest in formal wear, polos are the next best option. You get polo shirts in all shades that you can pair them with trousers for a very Steve McQueen look or with your shorts and boat shoes for that Sunday Brunch attire. Plus, their shirts in fun checks and stipes make casual clothing easy.

Comments