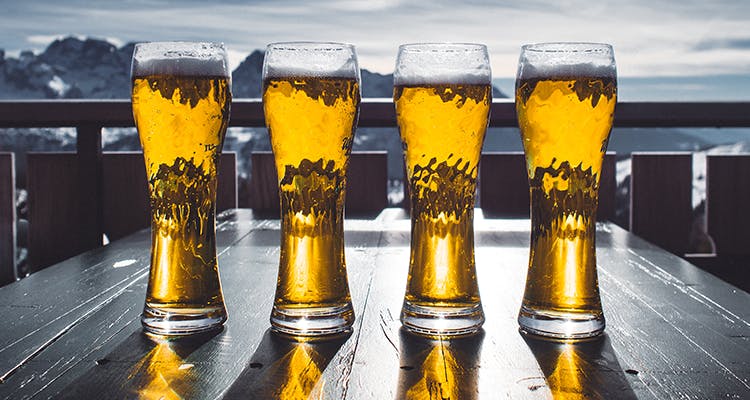 Guzzle Craft Beers at these Microbreweries in Bangalore
Bangalore's well-known love for beer has led to a microbrewery boom in the past few years. A recent count tells us that there are as many as 15 (whoa!) microbreweries in the city that are busy serving up their own ales, lagers, and stouts. LBB recommends that you hop, sip, and chug your way to a beer belly at these breweries in town.
LBB's loving
Windmill Craftworks
Readers' vote
Toit
Arbor Brewing Company
ABC's beer menu includes the Irish Stout (dark and with hints of coffee and caramel) and the light Raging Elephant (an Indian Pale Ale) that is perfect for a sweltering day. Smooth Criminal, that's tinged with honey lavender, Phat Abbot, a Belgian ale, and No Parking Pilsner, a flavour-packed German brew, are the other (some are seasonal) favourites. We have more to say about them here.
Toit
A big hit with beer lovers in the city, Toit is a mandatory stop when you're aboard the chug train. Their Basmati Blonde, a pale ale, Tintin Toit, a Belgian brew, and the Dark Knight, a stout – are among everyone's top brews. Plus, their lamb and fig pizza to make this a memorable meal.
Windmills Craftworks
Browse through a book or tune into a jazz performance, while sipping on their Golden Ale or Indian Pale Ale. Like something darker? We recommend their Stout. The banana and clove flavoured Hefeweizen is also a winner. Plenty more scoop on them here.
Big Brewsky
Lounge by the tranquil pool as house favourites like Black Lager, a dark malt lager that also features light hops, and the Dunkelweizen, a dark German ale that's made from wheat, make their way to you. If you'd like to guzzle something unusual, then, sip on the Oatmeal Stout and the Smoke Lager, that has a distinct flavour to it.
Punjabi By Nature
Wolf down hearty Punjabi fare as you guzzle on their Wheat Beer and Dark Special Roasted, that's brewed with Czech and German hops along with coffee and caramel flavours.
Barleyz
This rooftop brewery offers a handful of beers that are worth a try. Try the Barleyz special, the Dark Porter, or the golden-hued Weit and you won't be disappointed.
Vapour Pub & Brewery
This hip hotspot's brewery churns out Ales, Blondes, and dark beers but it is their wheat and basmati versions that have guzzlers swooning.
Big Pitcher
Get your fix of craft brews at this happening nightspot. Among the light beers, you can try the Kingslayer, Adjust Maadi and the Sarava. For the dark beer lovers there's the Hop Witch and Endless Darkness.
Bangalore Brew Works
Think your beer only gets better when bitter? Then, try their Commercial Stout, a dark ale underlined with caramel, chocolate and coffee flavours. The refreshing notes of the Richmond Ale and the Majestic Wheat, that comes with a touch of spice, are crowd favourites too. Find out more here.
Prost Brew Pub
Apart from a special house brew that changes with the season, Prost offers the usual suspects with a twist. There's Fruit Cider, that's made with Himalayan apples, and  Bangalore Bolt, that features German wheat, barley, and a sprinkling of spice. Also try the English Ale that's mixes things up with four different malts.
Murphy's Brewhouse
Tipping its tipsy hat to the Irish, this cosy brewhouse serves patrons favourites like Paddy's Poison, a light ale that's topped off with honey, fruity flavours and a dash of bitter hops. There's also Blackbeard. a dark beer with hints of chocolate and roasted caramel.
District 6
A rare brewery in the north part of town, this plush watering hole's on tap craft beers have received rave reviews. Try The Chief, a pale, fruity wheat malt, or the Brewmaster's favourite – Dark Lord, that's infused with caramel – for maximum guzzling pleasure.
The Biere Club
One of the first to kickstart the brewery boom in the city, The Biere Club serves up a nice mix of aromatic and flavourful ales, crisp lagers, and dark stouts made from roasted malts. Do watch out for their seasonal and club specials that are a worth a try.
Comments