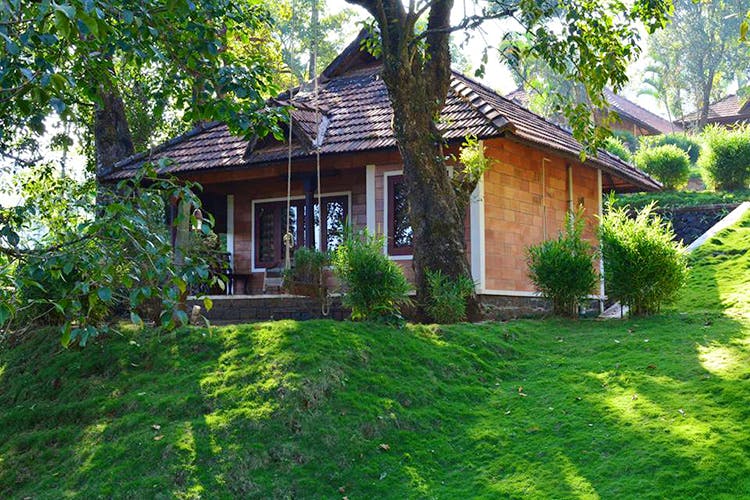 This Farm Resort In Coorg Comes With Its Own Waterfalls And Beautiful Cottages
Shortcut
For a real break from the humdrum city life, drive off to Coorg to the Misty Woods farm resort. With magical cottages, old-school Kerala ones and a swimming pool, it's a hidden gem.
What Makes It Awesome
Set in Kakkabe, very close to the Brahmagiri Forest Reserve, Misty Woods is practically hidden in the mountains called Karadi Moole. With 100 acres of property, you should be able to unwind without trying too hard. The drive itself is picturesque with paddy fields, coffee plantations and the forest all around. Plus, there are streams that also run through the estate.
The main house — Mansion House, has a central courtyard with rooms around it. Ideal for a family or even a large group. Its old school furniture and large rooms make you feel like you're living the planter life. But oh, we do love the Fairytale Cottages that are further inside the property with trees and plants almost camouflaging them. Designed to resemble a more western aesthetic, these cottages come with a fireplace and a spiral staircase that leads to a cosy loft. But the real reason we adore these are because they have a clear view of the waterfalls that are also part of the property (remember we talked about the streams?). For those looking for a more earthy stay, pick the Vernacular Cottages, built in the Kerala-style architecture. Meals are homely and delicious. Think typical Coorg and Kerala food, with a smattering of North Indian and Chinese. In fact, the puris at breakfast are to die for! So eat merrily, and then plonk on one of the hammocks for best zoning out experiences.
What Could Be Better
While for those who live in such estates, bugs and spiders are now a norm. But this place does have a rather lot of them creeping around. It can be quite off-putting for city slickers.
Pro-Tip
When the aroma of pepper and cardamom lures you out of the room, head over to the swimming pool, or as it's called The Pond. Or better still, troop off to explore the plantation on a guided tour. If you're up for adventure and a serious hike, Thadiyante Mol, Coorg's highest peak is not too far. Ascend at your own risk, but know that from the top, you can see all the way to the Arabian Sea, on a clear day.
Comments