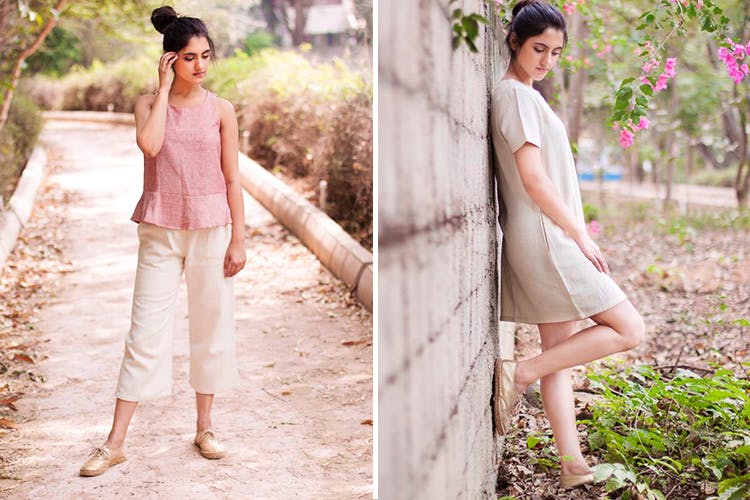 This Bangalore Brand Makes Trendy, Cotton Western Wear And They Customise Sizes Too
Shortcut
From off-white shirt dresses to pale pink peplum tops, look and feel your prettiest in these easy breezy designs from Bangalore-based sustainable clothing brand — MOBORR.
What Makes It Awesome
With their classy and minimalist design, MOBORR is a clothing brand that is catching our eye for it's cool and comfy collection. All their clothes are apparently made from a weave of organic cotton sourced locally and they only use natural dyes. We're loving the colour spectrum the brand restricts itself to with it's off-white and light pastel shades. You can find boxy dresses, tops, pants and shrugs in pale pink, airy greys and light blue hues . The brand was started in a bid to make classic western wear well-fitting and comfortable for Indian women of all sizes. The sizes are customisable with all their designs as this brand takes a body inclusive approach. With handwoven tops, dresses, pants, shorts and skirts, MOBORR has our attention with its sustainable and fashion-forward designs.
At MOBORR, the styles are reflective of the brand's philosophy which is about celebrating nature and easy living. With simplistic and classy designs, you can find cool and comfortable clothes here in breathable fabrics. According to co-owners and friends Deepa and Madhurima, every aspect of MOBORR's operation is organic and ethical, from its wooden rack display to its order books. With their prices ranging from INR 2,000 to INR 6,000, you can get your hands on their creations placing an order through their Facebook here and their Instagram handle here. Or you could catch their pop-up shops at different stores across the city, at exhibitions, flea markets, or you can send a message to the ladies on their Facebook page and seek an appointment.

Comments