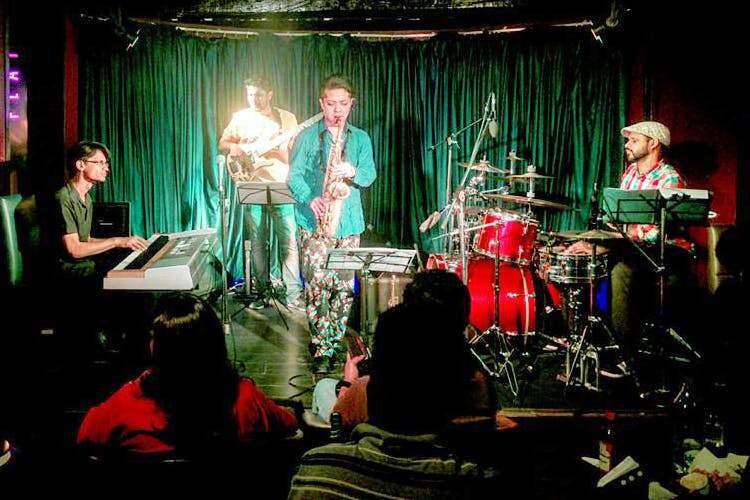 5 Artistes In Bangalore Whose Sounds Go Beyond The Spectrum
Whether your daily playlist could use some fresh new music, or you're craving for something out-of-the-box, the artists' on this list have got exactly what you've been looking for. Deviating from standard musical structures and sounds, these Bengaluru's musicians' sounds are eccentric and hard to place, but that's exactly why we like them. Check 'em out!
Aerate Sound
Aerate Sound is Joe Panicker, Rohit Mohan and Naquash bringing in a sweet aesthetic of synesthesia with their audio visual outfit. While you will want to bust some moves to their grooves, rest assured your surroundings will turn into another planet.
Escape Sequence
Akash Mukherjee is the guy behind this cinematic project and while listening to his music, you might suddenly find the urge to give your friends a very dramatic twist to whatever it is you maybe saying to them – from 'yea, ill see you later' to ' till whence we shall cross paths again my fellow sentient creature'.
Sulk Station
Rahul Giri and Tanvi Rao are the duo behind these dreamy, ethereal sounds with a haunting dose of ethnicity. You will want to sit back and reminisce of a past that you have probably never had, in full blown technicolour. Oh, and if you're a fan of 'dat-bass', be sure to treat yourself to some friendly neighbourhood level volumes for optimal consumption.
Refuge
Refuge is Aman Mahajan on keys with a plethora of exceptional musicians including Matt Littlewood, Jeoraj Stanley, Mishko M'ba to name a few of the most frequent players. Imagine a post-modern folk civilisation and you'll probably hear Refuge all over the radio. Expect a great deal of virtuosity to blow you away.
Kuru Circus
Kuru Circus and orchestra is an amorphous collaborative project of Ari Jayaprakash with a group of fellow artistes coming together for a performance that is unlike pretty much every gig. While their live shows themselves are a separate topic, the music itself maybe best listened to with moderately dim lights to put your mind through some wormholes.
Comments