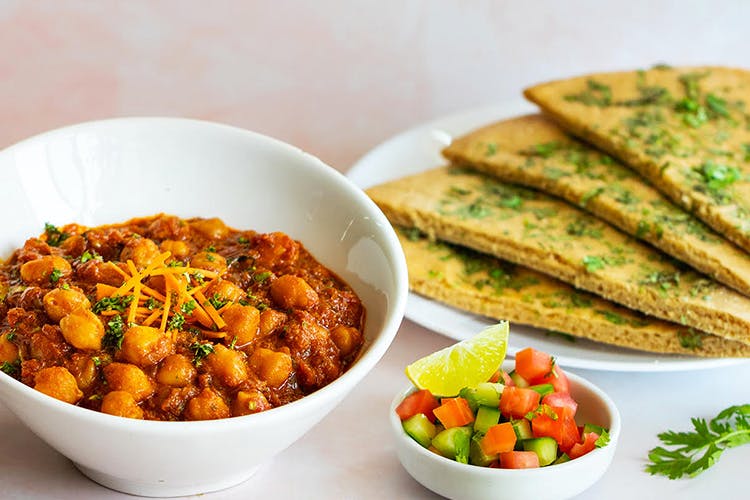 Bangalore Foodies, Try These 5 Meals From eat.fit That Are Great On Palates & Easy On Wallets
Always thought healthy meals are boring? Well fret not, as eat.fit cafe is busting this myth and how! With meals that are so flavourful, absolutely guilt-free yet easy on the wallet, it's no wonder that they're hitting all the right notes. Plus, they have so many outlets in the city, so there's bound to be one near your workplace or home.
Read on to know LBB's favourite recommendations that you've got to try:
Nothing Without Pindi Chole & Kulcha At INR 130
This protein-packed delicacy comes with a tangy, spicy, juicy mix of pindi chole, flavored with anardana and amchur. Paired with wholesome whole-wheat kulche, you can have it as a filling meal or as a snack.
The Perfect Fit Thali At INR 170
When in doubt, trust Fit thali. Curated to be an every day balanced meal, this thali is packed with the nutrients of butter-less dal makhani, protein-packed paneer khatta pyaaz, fibre-rich salad and wholesome rotis. Just the meal your mom would approve of!
Fully Versatile Salads & Sandwiches At INR 150
Choose your protein—be it chicken, vegetables or eggs. Add your favourite choice of sauces— Southwest to Honey mustard, they have them all. Then top it with some feta cheese or peanut butter and add a load of veggies. All of this for just INR 150! Vegetarians, you can go for your version of the sandwich at just INR 120. So this one's a must eat, guys.
Guiltfree Desserts Starting At INR 60
Dive into brownies, kheers, cupcakes and more leaving the guilt behind. These delicious indulgences are made using whole-wheat, jaggery and a whole lot of love by eat.fit folks. We're diggin the Chocolate Walnut brownie and think you should too.
Get Fruity With Fruit Parfait At INR 150
First, feast your eyes to the explosion of colors in this fruit parfait and then indulge in the deliciousness that screams health. Once on the lips, it won't forever tax your hips. You can even make your customised version of the parfait with your choice of fruits, toppings, and a yogurt base.
So, We're Saying…
Fret no more about those missed meals due to late work hours or those evening dates. We're just glad to have found a place that's affordable, delicious and healthy. They're also open till 1 AM, so feel free to walk into an eat.fit cafe to cure those late night blues or hungover hues.
Comments
Other Outlets