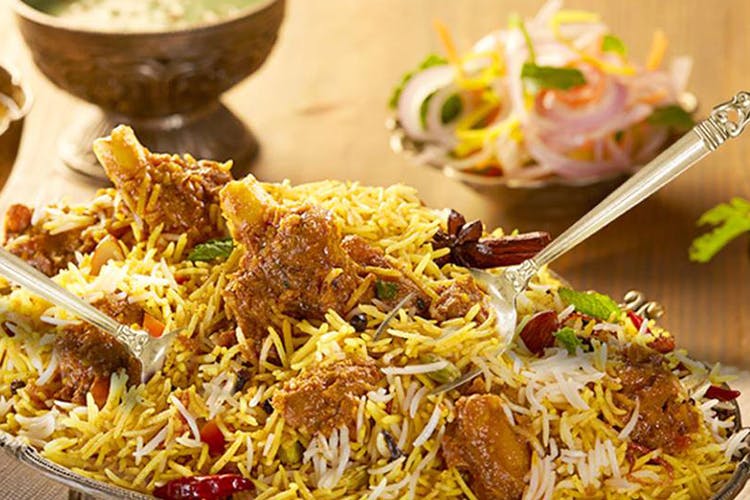 Mutton Kheema, Bengali Prawn And The Classics : The Biryani Scene In Koramangala Is Diverse
Ten-Second Takeaway
If you want to call yourself a certified Bangalore foodie, then we present this list of biryanis that are a must-try. Picking just one type of biryani is ludicrous, in fact every region in India has their own version – from spicy to peppery and lightly scented. We put the spotlight on the restaurants that serve them with authentic flair.
Lazeez
The iconic Kolkata brand is a Bangalore favourite, with branches popping up all over the city. The Koramangala branch is a fuss-free sit-down eatery. And what it lacks in decor, it makes up for it with a decadent selection of Mughlai biryanis. From succulent mutton biryanis to light fragrant chicken biryanis, the option to add potatoes and an egg is always fun, and is best enjoyed with their kebabs.
Empire
Empire is popular for the chicken kebabs and biryanis. The grilled chicken biryani and mutton raan biryani are popular favourites here. Given the late hours that Empire is famous for keeping, it is the traditional haunt for Bangalore's crowd after one too many drinks. But that doesn't stop the restaurant from being busy in the daytime as well.
Meghana
Originally called Meghana Foods, but their signature biryani is such a hit that now locals identify the restaurant only by the name Meghana Biryani. Turning 10 this year, Meghana Biryani is know for its . famous Special Biryani, with spices and richly-marinated pieces of chicken. The fish biryani is also a speciality here, and has won the hearts of many. Unlike other restaurants Meghana serves the rice and the masala portion of their biryanis separately. you can mix and eat according to your taste. 
Mani's Dum Biryani
A quaint little spot that is easy to miss and off the busy roads of Koramangla, this unassuming space is home to one of the city's best kept secrets. This is a place just for biryani, by which we mean you won't find anything else on the menu. Apart from serving large portions, eager diners can also order individual portions that are priced at a steal — starting at INR 149 onwards. If your appetite seeks more, choose the combo packs which come with delicious starters and sides.
Behrouz Biryani
Following a traditional recipe from the Persian kitchens, Behrouz Biryani has garnered recognition all over India. The biryani menu is filled with goodies from vegetarian, mutton to chicken and lamb options. Though the favourite to order here is the Makhani Chicken Biryani. Recreating the dish as the royal Persians once did, is an art form and the team at Behrouz take this task very seriously.
Nagarjuna
Serving up traditional Andhra fare with their famous banana leaf meals and delectable biryani, Nagarjuna is a busy restaurant all week long. When you have a taste of their biryani, you will understand why. The dish is a perfectly spiced signature of Andhra cuisine, but is not for the sensitive palate. All their biryanis go well with a chicken or fish starter, and can be ordered as a part of their famous meals too.
Koshe Kosha
A well-known restaurant amongst the Bengali community, this is a place for seafood lovers. Simple decor, and a menu with a wide variety. The Malai Chingrir Biryani with tiger prawns is the showstopper here. An unique side is their prawn chutney. Apart from the signature biryani, the menu also runs seasonal menus depending on the catch of the day.
Comments