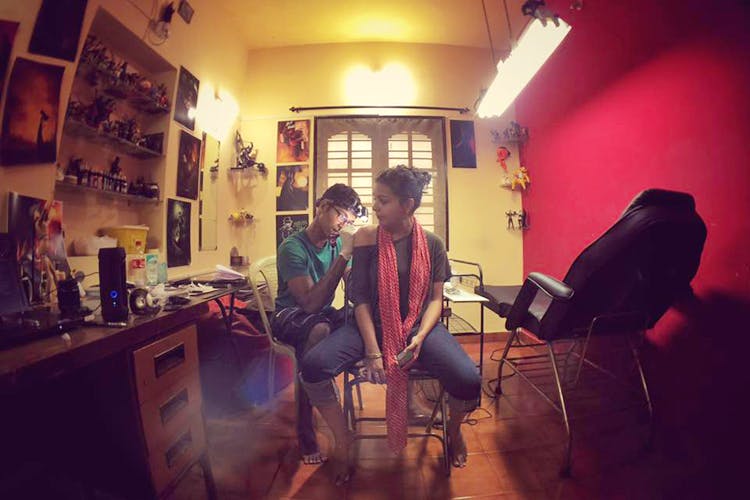 Tattoo Newbie, Or Sleeve Lover Hit Up Our Favaourite Tattoo Artist In Town
Shortcut
Mykel Kumar, owner of The Pumpkin Patch studio, should be everyone's go-to inker. He's even got fans from as far as Kanchipuram down to Koramangala.
What Makes It Awesome
We know getting a tattoo is kind of scary. What if the tattooist messes it up and you have to live with it forever? But don't worry, Mykel Kumar isn't that sort of chap. He's solid, creative and is all-round cool. Minimalist? Abstract? Realist? Whatever kind of branding you want, Mykel's got your back (or wherever else you want it).
What we really like about Mykel is that he will sit down with you, help you figure out what you want and ensure that you'll be leaving his studio with a genuinely unique tattoo. While he's pretty versatile when it comes to styles and technique, his major influences come from his passion for graphic novels, anime and animated films. Just remember, he's not the kind of artist who will duplicate or replicate a design you saw on Pinterest or the internet in general. He does custom designs only, but you can bet you'll love it after the many consultations you've had with him, especially since he's super open to any concepts and specifics you have in mind. And he won't say no to the occasional "inspired tattoo" idea, as long as the design incorporates personal touches!
He's also known for keeping The Pumpkin Patch Studio super hygienic and being extremely careful while tattooing. Phew! That's a prime reason we go to him. Our in-house tattoo junkie also says that Mykel is super gentle and tries to make the whole process as painless as possible. .So, if you've been procrastinating and avoiding that tattoo appointment… never fear, Mykel is here!
Pro-Tip
Since he is very popular in the city, be sure to book an appointment with him months in advance. The best way to contact him would be on his social media handles.
Comments