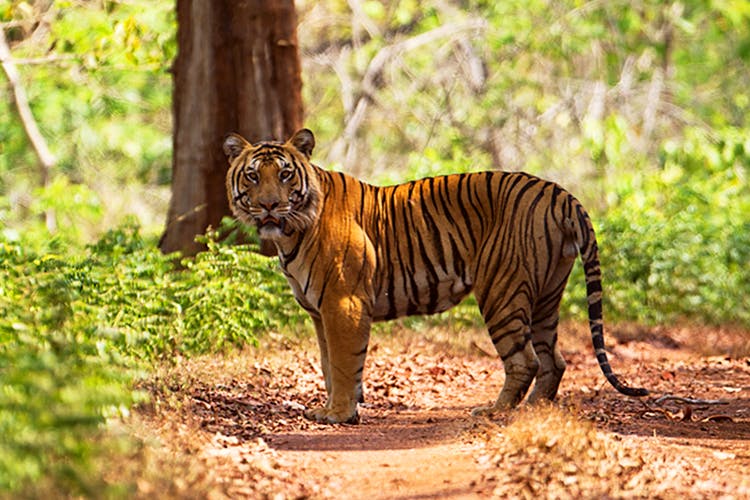 Add These National Parks In And Around Bangalore To Your Travel List
Now that you have binge-watched Our Planet, move over the busy touristy places and hit these national parks in and around Bangalore to experience wildlife up close.
Bannerghatta National Park
Spread across 65,000 acres of natural beauty, Bannerghatta National Park is one of Bangalore's true treasures. From wildlife safari, boating to a stroll around the national park, Bannerghatta National Park has a lot to offer. It is home to tigers, lions, leopards, bison, deer, bears, birds and butterflies. The lion and tiger safari or Grand Safari as it is called is one of the main attractions for the tourists who walk into the National Park. With these majestic beings out in the open, uncaged, inhabiting in their raw form, awe at the true beauty of wildlife in their natural habitat (from the safari vehicle). The park also has a wildlife corridor for elephants that connects BR hills to Sathyamangalam forests. You can also camp overnight at the Bannerghatta Nature Camp with the National Park as your backyard. Beat the traffic and experience wildlife at the Bannerghatta National Park in Bangalore.
National Parks & Wildlife Sanctuaries
Bandipur National Park
Bandipur National Park, a five hours drive from Bangalore, is one of India's well preserved national parks. It is home to over 3,000 Asian Elephants, about 70 tigers and other wild animals like leopards, dhole, gaur, sloth bears and numerous birds. What once used to be a game reserve of the Maharajas of Mysore is now a national treasure. It is located in Chamarajanagar district, border of Karnataka and Tamil Nadu, the outskirts of Bandipur has numerous resorts and lodges that could arrange a private safari, letting you explore and spot the majestic creatures out in the open. It is open throughout the year and the best time to visit is from June to October.
National Parks & Wildlife Sanctuaries
Mudumalai National Park
Pay a visit to the Mudumalai National Park, located in Nilgiris, which is about five hours drive from Bangalore. With a high diversity of both flora and fauna, Mudumalai National Park has over 50 species of fishes, 21 species of amphibians, 34 species of reptiles, 200 species of birds and 50 species of mammals. It is home to some of the endangered species like Elephant, Tiger, Gaur, Leopard, Spotted Deer, Sambar Deer, and Wild dogs. If you are a bird enthusiast, this national park is a treat for you as you can spot White-rumped vulture, long-billed vulture, Red crest, Mynas, Parakeets, and Owls. Private cars are allowed in the outer regions of the park and they also organize elephant camps and safaris. The best time to visit the Mudumalai National Park is from December to June.
National Parks & Wildlife Sanctuaries
Eravikulam National Park
Established to protect the Nilgiri Thar, Eravikulam National Park is a protected area spread across 97 square kilometers. Located on the Munnar-Udumalpet road, Eravikulam National Park is one of the areas to spot the Kurinji flowers in South India. The park has been divided into three areas: the core area, the buffer area, and the tourism area. The Tourism area in the Rajamalai region is the only area open to the public and you can trek and go on safari rides inside the park. It has nearly half the world's population of Nilgiri Thar and you can also spot animals such as Gaur, Giant Squirrel, Leopard, Lion-Tailed Macaque, Tiger, and Sambar.
Silent Valley National Park
Get your dose of serenity at the Silent Valley National Park located in the Kundali Hills of the western ghats, at about 53 kilometers from Palakkad, Kerala. It is India's only rainforest and one of the smallest national parks in the country. The Sairandhri area of the park is the only part open to the general public. One can spot elephants, tigers, leopards, wild boar, sambhar, gaur and the endangered lion-tailed macaque while touring the national park. You can trek to Kunti River from the watchtower and marvel at the beauty of nature and wildlife. It is mandatory to hire a guide to enter the park and you can find one at the entry point.
National Parks & Wildlife Sanctuaries
Anshi National Park
Situated in the north Kannada district of Karnataka, Anshi National Park is one of India's most endangered parks. It is rich in rare species of flora and fauna and guess what, you can spot Black Panthers here. It is the only national park where one can spot black panthers in the country. While visiting Anshi National Park, you can also trek around the national park. From Black Panther, deers, common langur to the Malabar giant squirrel and the porcupine, this park is home to a huge group of wildlife. Reptiles include King cobra, python, rat snake, viper, and the krait are also found here.
National Parks & Wildlife Sanctuaries
Nagarhole National Park
If you are visiting Coorg, add Nagarhole National Park to your list. Also known as Rajiv Gandhi National Park, Nagarhole National Park is the abode to kinds of serpents as the name translates to Snake Hole and also a tiger reserve. It is one of the best wildlife sanctuaries in South India and is rich with forest cover, small streams, hills, valleys, and waterfalls. Spot tiger, leopard, hyena, spotted deer, barking deer, four-horned antelope and elephants along with reptiles and over 250 species of birds. Forest safaris, and boat rides along the Kabini river are organised by the forest department for tourists. It is not accessible during peak monsoons.
National Parks & Wildlife Sanctuaries
Ask Dikshita a question