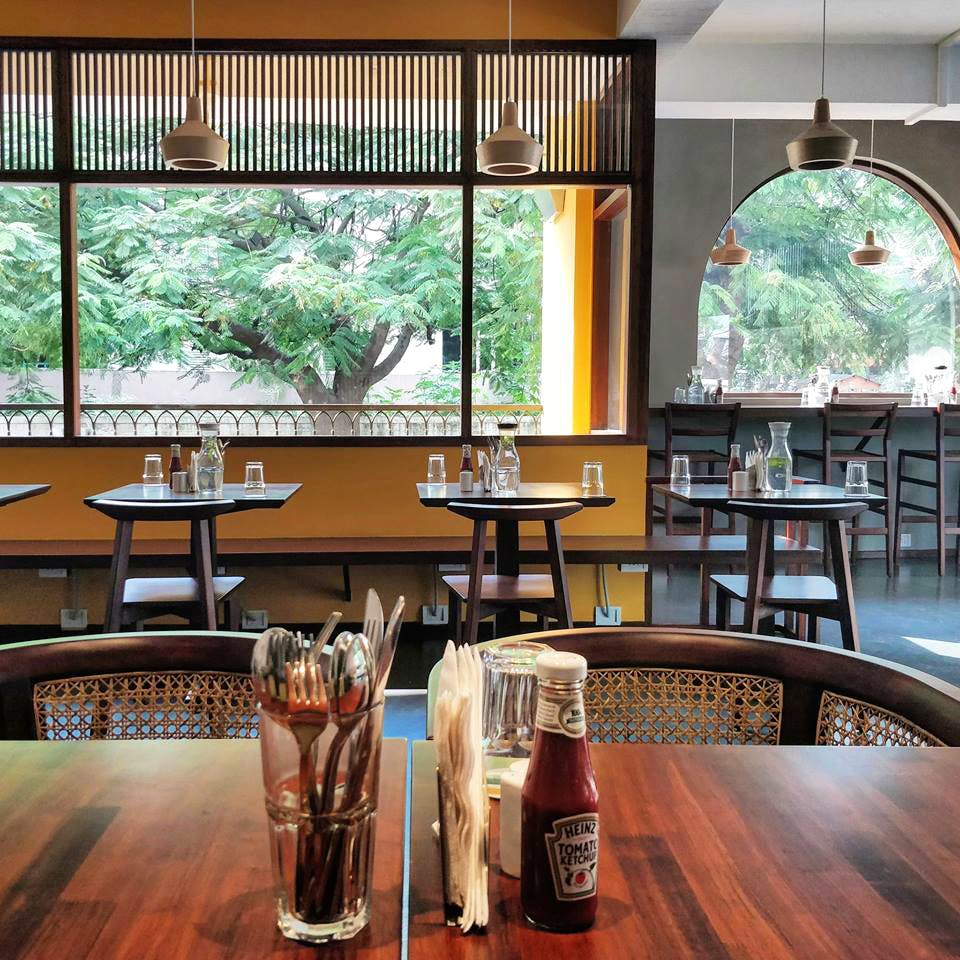 Need A New Place To Chill? Koramangala's Got Six New Cafes For You To Check Out
If you are looking for a new place to hang out in Bangalore, Koramangala always comes to the rescue. We are always wondering how Koramangala has space for so many cafes, restaurants, bars, and what not. Anyway, lest we digress, we found out that Koramangala has about 15 new cafes that's opened up and naturally we went to all. So without further ado, we present to you the best of new cafes in Koramangala that you need to check out.
Sixth Avenue Cafe And Patisserie
It's our favourite cafe of the lot with Victorian-themed cyan coloured interiors giving our Insta feed a run for its money. Pretty space with vintage furniture, it's perfect for afternoon dates with the SO or to chill with the squad after work or college. The menu is Continental with burgers and pasta coming highly recommended. Fresh tea and sinful desserts will keep things interesting. You can check out our recommendation on the cafe here.

Terra Bites
The cutesy cafe is located in the same area as Onesta and has a very minimal decor set up. It's almost like fine dining meets cafe with plenty of space between tables, so you've got your privacy. From breakfast burritos to fish tacos, the menu has something for everyone. Our pick? The Spaghetti with meatballs and Himalayan Noodle Bowl.

Cafe Jezve
The menu is Arabian and the decor is really quirky with Egyptian masks, goat heads, and lanterns. Plenty for the'Gram! Coming back to the menu, you've got hummus to make everything in life better and they serve over seven different kinds. Stick to the Lebanese one. Falafel is there, so are seekh kebabs and it's a meaty affair, so carnivores rejoice.

Hungry Travellers Cafe
Quaint and pretty, it's tucked away from the daily hustle, so you've got yourself a nice little spot to kick back and catch up on some reading. There's a mini bookshelf. They have got a bit of green going around too. Come evenings, the place is perfect for date night. The menu is Indian, so you've got everything from egg burji to rajma chawal.

Qube Cafe
A foosball table, board games, and a happy playlist -- three things that will make you keep coming back to space. Good coffee will keep you company and if you are hungry, you can always order small plates like cheese sticks and chicken wings. If you are hungry, sandwiches are there.

Tea Villa Cafe
The Mumbai-based tea chain is opening its new outlet in the coming weeks and once the doors are open, say hello to a whopping 140+ varieties of tea. The decor, if we are going by their HSR and other outlets in Mumbai, then boy oh boy, you've got yourself something straight out of Pinterest. Think florals, flamingoes, and monochromes.

Comments