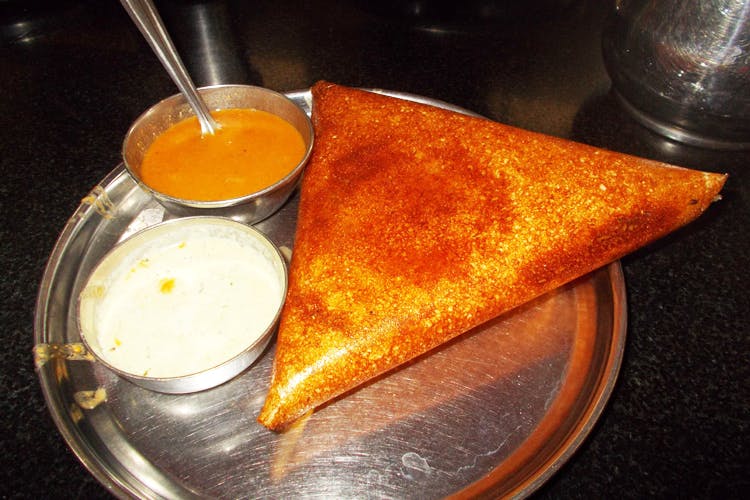 New Modern Hotel For Masala Dosas, Badam Halwa And Old World Charm
Shortcut
Since 1959, New Modern Hotel has been frequented by film personalities, notable writers, and the common man for its South Indian breakfast specials. The masala dosa and the Badam Halwa rank among the best in Bangalore.
Chow Down
Masala Dosa, Mosaru Vada, Badam Halwa
Sip On
Filter Coffee, Cold Badam Milk
Winning For
Their South Indian thindi, the rich Badam Halwa that gives you an instant sugar rush, and the quick as lightning service.
Lowdown On The Ambience
The hotel's architecture decidedly belongs to the 50s. Inside the dining hall you'll find old portraits of Goddesses and Lal Bahadur Shastri hanging above the noisy kitchen. The rest of the space is occupied by wooden benches and tables. In one corner, you'll find a heavy wood and glass counter from where the cashier keeps an eye on the lungi-clad waiters delivering the orders.
What's On The Menu?
We begin brekkie with the Mosaru Vada — Medu Vada dunked in curd. A lot of South Indian joints these days add a good dose of sugar to the curd, but NMH lets the fresh curd do all the talking. Add to that the softness of the soaking vada and the crunch of the fried, salty boondi and we're off to a flying start.
Of course, the Masala Dosa is what you should look forward to the most here. Folded into a neat triangle, the dosa sports a dark brown crunchy outside. Open it up and you'll see the aerated batter is spread evenly and the bits of crispiness make it a delicious eat. Avoid the watery sambhar though. The Badam Halwa is a speciality here. The rich dessert tastes a lot like Mysore Pak, except the texture is a bit more grainy. While they show restraint with the sugar, ghee is used freely. However, don't look at the tiny portion and ask for extra helpings before you finish. Given the richness you won't be able to stomach more than a few spoons.
So We're Thinking…
Basavanagudi has many well-known, South Indian breakfast joints and New Modern Hotel earns its place on that glorious list. If you want to avoid the crowds and the noise of the traffic, drop by for a leisurely breakfast before 9am.
More Information
New Modern Hotel
Nearest Metro Station: National College
Comments