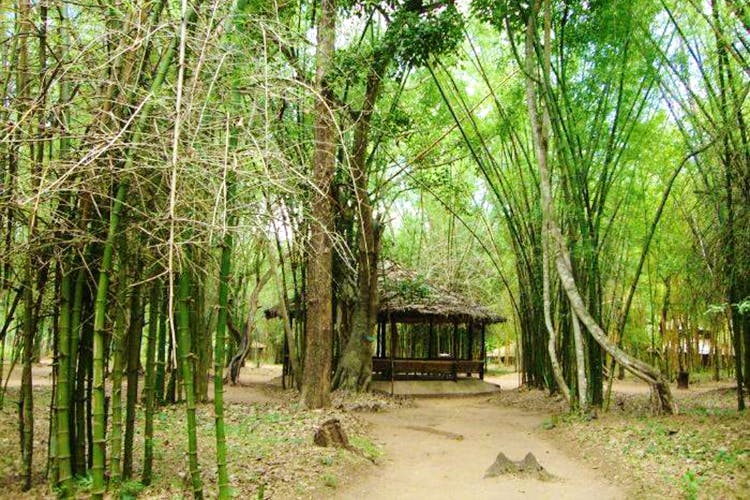 Live In Stilt Cottages On An Island For Under INR 700 At This Rustic Resort In Coorg
Shortcut
On the banks of the river Cauvery, this government-run property wins for location and price. How many times have you lived on an island in Coorg?
Island In The Stream
Just outside the bustling Kushalnagar is the quaint Nisargadhama island, created from the meandering Cauvery river. While it's nothing fancy, the Nisargadhama Forest Resort is rustic and unique. There are cottages that overlook the river if you're not very adventurous. Not quite a dormitory, but great for up to five adults or a family, the cottages are simple, homely and a wee bit run down. But hey, when you're smack in the middle of a forest, with deer coming to visit in the mornings, and birds lulling you to sleep in the afternoon, who's going to complain. More so when it's under INR 1,000 for about five people, per night!
Bamboo Banks
If you're happy to rough it out a little with the bare necessities, and no fancy décor or furnishings, pick the bamboo huts that are on stilts, right on the river. It's practically perfect. The balcony overlooks the river, so carry a book or board games, and you'll be able to spend hours just soaking in the sounds of nature. There's even an orchidarium, a kiddy park as well as a deer park, so wander about exploring — you won't regret it. Since it's an island, there are parts where you can walk all the way to the river. While it's not really advised, the guards do sometimes let you wade into the safer zones. Not ideal for swimming, but great to just wallow for a while.
Meal Times
Don't count on the canteen food there. It's slightly dodgy. If you must, just eat the rice and dal as we did. But for meals, either hit up Kushalnagar town and dine in, or bring back the food. We did the latter for dinners. Nothing like picnicking under the starts eh?
So, We're Thinking
It isn't fancy at all, but we can't get enough of the peace and quiet here. Plus, paddling in the Cauvery is always fun. Who's in?
Comments