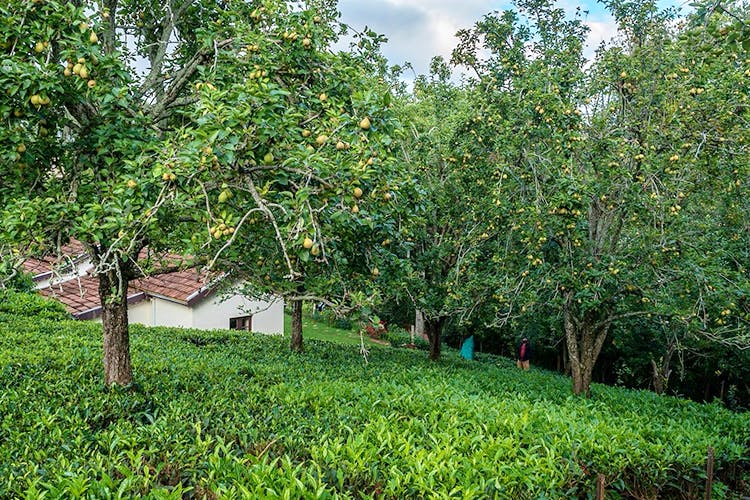 Forest Trails, Barbecue, And Doggos: Weekend Getaways Made Easy At This Kotagiri Cottage
Shortcut
Nestled amongst tea plantations and an organic farm, Nook & Cranny in Kotagiri, is as cosy and private as it can get. And with pet-friendly policies, barbecues, and bonfires, you've got the ideal getaway on cards.
What Makes It Awesome
A pear orchard and vast expanse of tea gardens are what greets you when you check into one of the two independent cottages at Nook & Cranny. Simple, cosy and quaint, the cottages are devoid of major modern amenities (read TV and WiFi), but that shouldn't be a bother since you are on a vacation. Digital detox is a good thing. There's a kitchen for you to make your morning cuppa or evening Maggi, but be sure to tuck into complimentary breakfast. Lunch, dinner or even picnic spread can be arranged on prior notice with food made from either locally sourced ingredients or farm-fresh produce from the organic farm beside the cottage.
There's plenty of open space in and around the property for a morning stroll. If you are coming with your four-legged best friend, rest assured they will have plenty of space to play. Just make sure that they don't go scratching near the organic farm. The porch is for you to sit back with a best-seller or plug in your earphones and take a snooze. The patio doubles up as a community space as well as a dining space.
The property is well located with the Kotagiri township a 15-minute drive away. If you are staying the weekend, we suggest you inform the caretaker to help arrange transport to the township or the Longwood Shola Forest, the only major pocket of natural shola forest left in the vicinity. The forest offers an ideal trekking trail through the shola and is your spot of adventure during your vacation. If you are lucky you can spot bison, flying fox, and other animals indigenous to the forest area. It's a paradise for bird watchers with over 50+ species of birds, so be sure to carry your binoculars if you are a budding ornithologist. Nehru Park and Catherine falls are the other nearby attractions that you can visit.
Pro-Tip
The property regularly conducts workshops such as baking, organic farming, and pottery for the guests to take part in. Campfire and barbeque can be arranged on prior notice. Given how cold nights can get, we recommend sitting around the campfire and warming yourself before you sit the sack. Oh, and of course, filling yourself with hot-off-the-grills dinner.