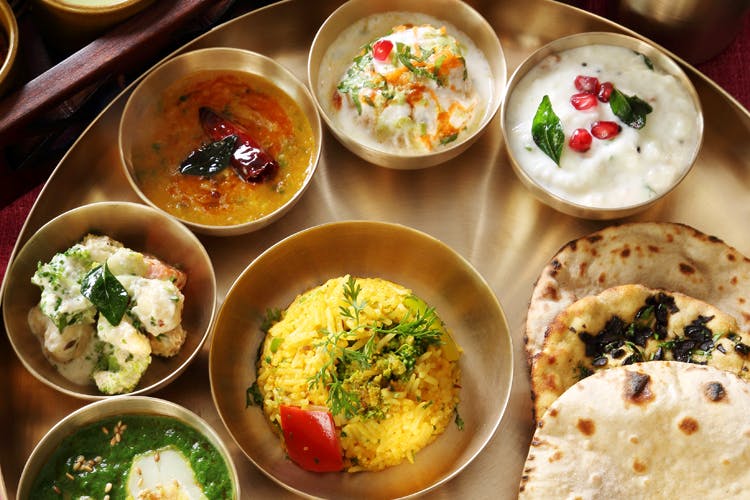 Here's Where You Need To Gorge On The Best North Indian Vegetarian Thalis Across Town
When you want to stuff yourself, there are few options that satisfy your soul as much as vegetarian North Indian thalis. Only South Indian thalis cut close. You can gorge on servings of delicious curries that pair excellently with rotis that are fresh out of the tandoor or rice dishes flavoured with spices and veggies. Of course, no thali can be called complete without the assortment of pickles, papads, and sugary sweets. Here are some of the best North Indian thalis in Bangalore.
Gramin
One of the best vegetarian restaurants in Koramangala, Gramin's thali is truly value for money. For less than 200 bucks, you can gorge on a limited thali that includes two vegetables and a daal that you can mop with either rotis or pulkas. After this, you can chomp on flavoured rice, a bowl of cooling raita and the dessert of the day.
Samaroh
When you want your thali to be abundant and fancy, reserve your spot at this restaurant. Start off with their amuse-bouche, a sweet Moti Choor Boondi. Follow this up with delights from the chaat counter or an array of snacks. Then, it is the turn of pulaos, creamy curries, and delightful Shrikand.
NH 8
Explore the flavours of Rajasthan's kitchens on a humongous plate at this decked-up restaurant. On a regular day, you'll be treated to limitless servings of classics like Dal Bati Churma, Kadhi, Vadis and an assortment of vegetables. Special occasions like Navaratri, this year, will see you feasting on Sabudane Ki Tikki, raita, kheer and fluffed-up puris.
Rajdhani
This chain of thali restaurants is where the Dhokla rubs shoulders with Dal Bati Churma. Stuffed with the best from Rajasthani and Gujarati cuisines, you can eat your way through an ever-growing stack of ghee-doused rotis, various kadhis and vegetables, and a long list of sweets and farsans. It's our pick for the best of the best North Indian thali in town.
Jalpaan
An extravaganza in the form of a thali awaits you at this Rajajinagar restaurant. You can start off your meal with a cooler before moving into more filling treats like Aloo Tikki, Tandoori Kalimirch Chaat, and a variety of salads. During the main course, you can wolf down servings of Vegetable Biryani and rotis paired with Methi Malai Mutter, Handi Subzi, and Nargisi Kofta. Finish up with a selection of Indian sweets.
Panchavati Gaurav Thali
Located in Garuda Mall and VR Bengaluru, Panchavati Gaurav serves up unlimited thalis. You can dig into four types of vegetables and two varieties of dal that go splendidly with hot, hot rotis. Their Dal Bhati Churma and flavoured rice provide the necessary carbs. And don't forget to try their delicious chutneys that you can dunk your crispy papads in.
Baba Chatkora
This hip restaurant that made its debut not so long ago has become a fast favourite with veggie lovers.  If you like to keep things simple, choose the Ghar di Thaali, which includes a dry vegetable dish, dal tadka, chapatis, rice, salad, and raita. When you are craving for something more elaborate, choose the Pind di Thaali, where you get a paneer gravy along with what's available in the simpler thali.
Kapoor's Cafe
This popular restaurant has an assortment of thalis that you can pick from. Their no-frill thrills offerings come under the Ek Raja section and include combos that come with Rajma, or Kadai Paneer, or Mushroom Masala among many others. When you want to eat like a king, choose from the options that come under the Maharaja Thali section. Here, you can gorge on Pindi Chole, Parathas, Bhature, Peas Pulao, and sweets.
Eshanya
Located in Jayanagar, this restaurant serves up a sumptuous thali that's a favourite with patrons. Available on weekdays alone (they also don't serve it on public holidays), you can dig into typical North Indian offerings like creamy curries, light-as-air rotis and yummy sweets.
Comments