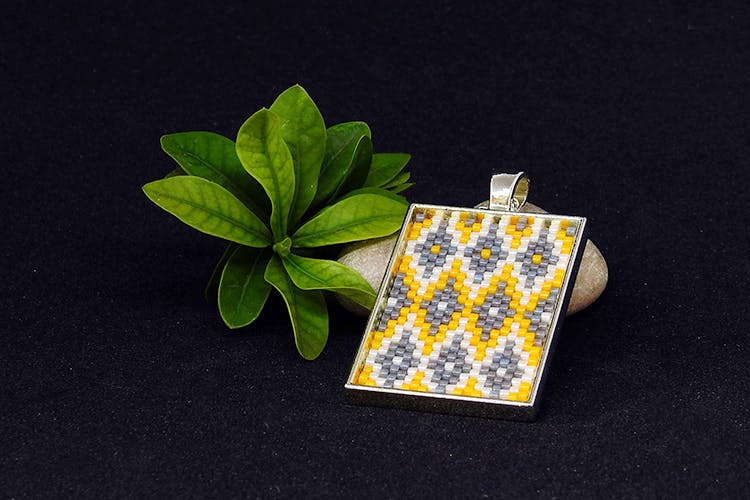 This Costume Jewellery Brand Makes Gorgeous Beaded Pendants Inspired By Saree Borders
Shortcut
Painstakingly hand woven to perfection, the charming beaded accessories from Mumbai-based label Omoya Jewellery come in unique designs and patterns, and can be customised too.
Bead Love
With a whole lot of Japanese Delica beads in eye-popping colours matched with a passion for jewellery design, the quirksmiths over at Omoya Jewellery are here to add some fresh designs and chic accessories to our collection. This Mumbai brand is putting a whimsy and fun twist to our everyday accessories from their intricately beaded earrings and pendants to their statement rings and cufflinks too. With every bead individually woven together, every item in their collection is hand made.
We're big fans of their Saree Inspired Collection that features jewellery with beaded designs inspired by saree borders. We spotted a few things with a charming Ikat print on them too. We're also like their range of Fun Stuff that features everything from Pac-Man cufflinks to a pendant with a beaded cactus on it. If you have a pattern or design in mind you want recreated with these Delica beads, Omoya Jewellery is ready to take on that challenge too. Get in touch with them on Facebook or shoot them an email at omoyajewellery@gmail.com and receive a custom made design. They usually take about 10 days to process an order, so the earlier you get in touch, the better.
String It Together
Started by a sister duo, Eesha and Shriya Ghate gave their day jobs the boot to pursue their jewellery making passion. Self-taught in the art, these two ensure that every single one of their pieces, from the simpler to the more elaborate ones are given the same attention to detail. Although the brand is based out of Mumbai, that's no reason for us Bangaloreans to miss out on their quirky pieces. Find them online at their website here. You can also score their stuff on e-commerce platforms like World Art Community as well. Prices won't break the bank either, starting at INR 400. So get online and place your order right away and add these conversation starters to your jewellery collection.