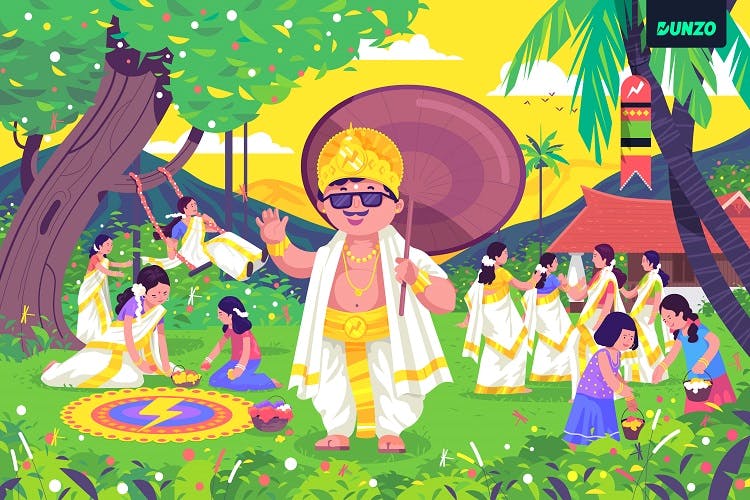 This Onam Order Fruits, Veggies And Gifts On Dunzo And Get It Delivered To Your Doorstep!
The much awaited festive season is finally here and we all are super excited about it. With this excitement comes the heebie jeebies too. And forget Durga Puja, Onam is already here!There is never enough time to shop for groceries, pick up supplies, grab food while battling with the never ending traffic in the city. Well, worry no more, let Dunzo do it all for you.
What makes It Awesome
If you're too busy to actually go out and shop, or frankly, you're just too lazy, Dunzo is your BFF! This 24X7 all-in-one delivery platform, fetches and delivers anything and everything within the city, while guaranteeing super quick deliveries, and we love it! Their services include delivery of packages, groceries and food. Besides all these, they also deliver medicines, pet supplies and more. (Wait, What!)
With Onam just around the corner followed by more festivals, getting all the work done on time means you will probably lose your sanity!. Here's how the Dunzo app lets you leave the chores to them so that you can only be part of the merrymaking!. With pookalams, sadhya and kaikotti kali, Onam is indeed a day full of high spirits and of course loads of food. Sadhya (feast) which is the yummiest part of Onam traditionally comprises of 26 or more vegetarian dishes. Preparing all this can surely become a daunting and tiresome task. Our advice - make your list for groceries, fruits and vegetables and just Dunzo It! Easy Peasy Right! And in case you're feeling too lazy to make everything, you can also get amazing South Indian delicacies delivered from your favourite restaurants at your doorstep in no time with Dunzo.

Another major tradition of Onam involves families across the globe make it to their tharavadu veedu (ancestral home) and exchange gifts. This is the time when festivities of Onam are at full swing. How convenient it would be to have your gifts delivered to your loved ones while you manage other tasks. Yes you heard it right! So all you gotta do is worry about what to gift than worrying about how to get them delivered, because Dunzo can take care of that for you.

Comments