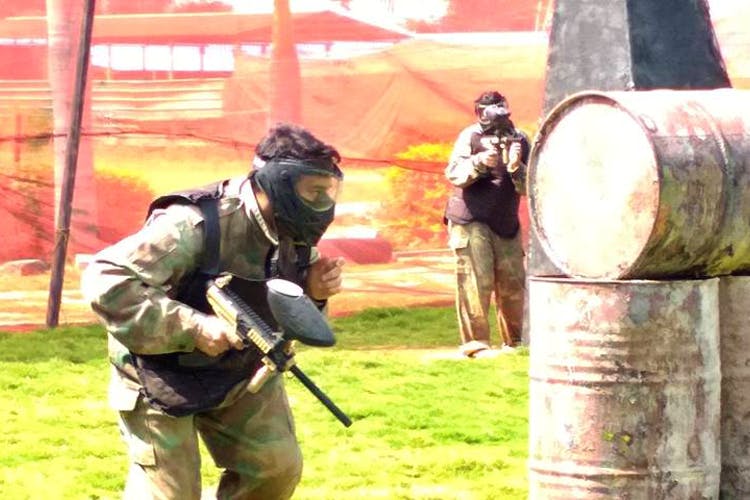 Capture The Flag Or Die Trying At This Paintball Arena In Bannerghatta For Just INR 300
Shortcut
Paintball is fun and making it extra fun and budget-friendly is Paintball X arena in Bannerghatta. Prices for three rounds is a cool INR 300.
Lock And Load
It's time to don your battle gear, load your gun, paint your face and practice your battle cry. It's time to gather the squad at Paintball X's massive outdoor arena and form an alliance to capture the flag first. But then before you do all that, make sure you listen to the orientation, the safety hazards, and the tips given by the referees at the arena. They are dead serious on that, so don't even think of going frolicking to the field without gearing up. But once you are geared up to the T, it's battle time.
The team size can be all small as three-a-side or as big as seven-a-side, but the only thing that matters is shooting the living daylights out of the opponent. Or least trying to shoot. The weapons are quite professional, so don't go expecting an easy weapon handling. Which is why listening to that orientation is quite important. But once you are on the battlefield that filled with all kinds of obstacles from tins to rocks, you are on your own. Just don't get shot in the head.
Reload And Continue
The tariff is on the pocket-friendly with INR 300 for 50 paintball pellets per person, which translates to about three rounds. If you are planning on spending a longer time at the field, you could go for the INR 550 package that gets you 100 pellets for about five rounds or INR 900 for 200 pellets that give you about seven rounds. Now, they all have another package for INR 6,500 where you can get 2000 pellets. Yes, 2000 pellets guys. That's enough to last you for a game time of about 1.5 hours. Make a day outing we say, now that you have got all this information. And if you are falling short of people, just remember Team LBB is always available.
More Information
PaintBall X
Nearest Metro Station: Trinity
Comments