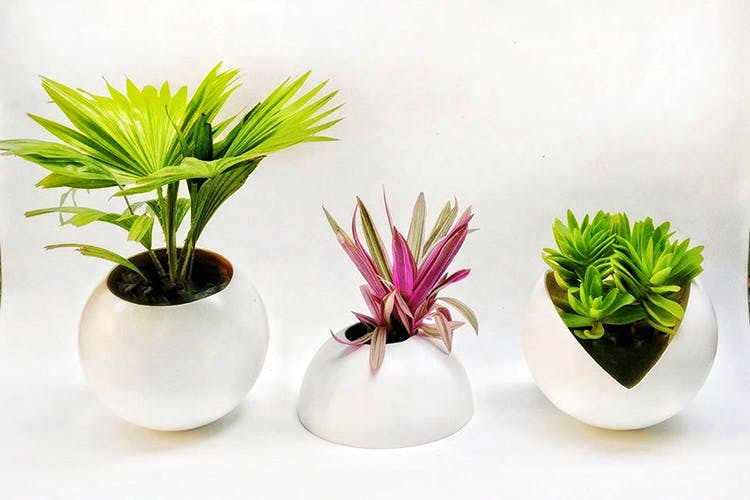 Over 80 Kinds Of Planters To Indoor Plants: Get Your Green Decor At This Koramangala Store
Shortcut
Palasa in Koramangala makes pretty planters in every imaginable shape and also stocks up on indoor plants and air purifying plants that will turn your space into a green haven.
What Makes It Awesome
Decorating your space whether it's the balcony, corners of your home, or even the work desk, planters are a great way to add a dash of freshness. Especially when these planters are brought from Palasa. The quaint green decor store is Koramangala houses planters in every imaginable shape, size, colour, and design. You will spot geometric ones in all shades, quirky ones shaped like owls, foxes, and other cute animals, and simple planters shaped like a mini vase or pot. The choices are limitless especially when you can also get customised planters too.
Apart from planters, Palasa specialises in indoor plants and air purifying plants. In fact, the store is like a mini tropical jungle filled with indoor plants of all kinds including fern, anthuriums, and ficus. If you are worried that the bigger indoor plants will be harder to take care off, don't worry as they also have succulents, cacti, and a range of air purifying plants that require minimal care and maintenance. We spotted snake plants, aloe, spider plant, peace lily, and Chinese evergreen that are almost impossible for you to kill. They require watering once a week and some sunlight.
Pro-Tip
Preine Pereira and her husband who own and run Palasa are ever present at the studio and they are like plant doctors. They will give you advice on plants and home decor as well, including how to place the plants across your house, which plants to buy if you're a beginner, and how to decorate your house incorporating the planters into your home design.

More Information
Palasa
Nearest Metro Station: Trinity
Comments