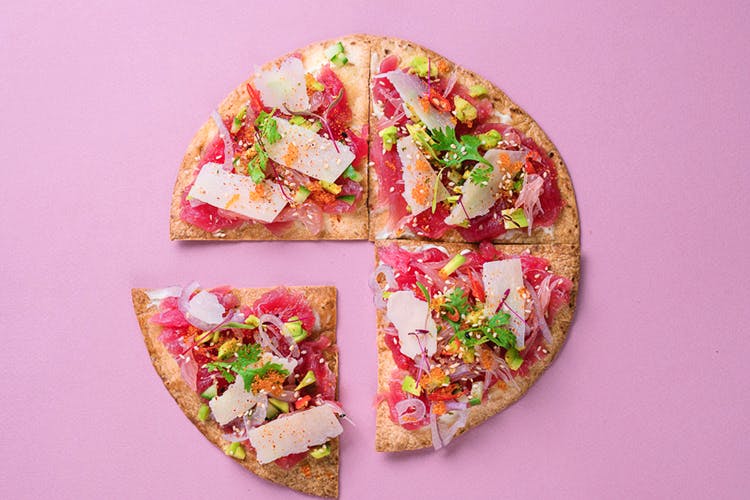 Nearest Metro Station:

Cubbon Park
Peruvian-Japanese and Comfort Asian Food Takes Centre Stage At This Restaurant's New Menu
Shortcut
Decoding their massive menu and adding comfort food to it, 1Q1's new menu is still authentic, but much more accessible. Nikkei cuisine for the win!

Great For
Japanese-Peruvian Food, Unique Cocktails, Vegetarian-Friendly, Sushi, Dim Sum

What Makes It Awesome
The massive menu always intimidated us, but now, split into decoded sections , we're now very much in out experimental-yet-comfort zone! Plus, zany cocktails to match the cuisine. We picked the refreshing Moonshine Volcano (gin, muskmelon shrub topped with ginger ale) and the heavier Mystery Dynasty, a walnut-infused whisky, mixed with homemade banana liqueur. Kick things off with Chilli And Roasted Garlic Edamame -- it's got a spicy hit to leave you moreish.
We loved the General Tsao's Chicken (familiar is good!) as well as the Broccoli & Baby Corn Nam Prik Pao. Being hardcore non-vegetarians, it's noteworthy that the Malay Penang Tofu, slightly sweet-spicy, had us drooling. Pork eaters, blindly order the Thai Bird's Eye Chilli pork and the Sliced Char-Sui -- comfort food at its best!
From the Nikkei section (that's Peruvian Japanese food), try the tostada. It's a salad on a toasted tortilla topped with fresh vegetables (or tuna), and a lovely wasabi lemon cream and cilantro to go with it. Seafood lovers, don't miss Grilled Octopus served with a traditional South American Antichucho sauce -- the distinct vinegar goes well with the meat. Futomaki fans try the salmon and cheese roll, and the vegetarian version with asparagust! Dim sum is as good as always but for a change, our favourite is the assorted mushroom with black truffle oil, over the meaty ones!

Mains have familiar flavours now. A huge fan of Kaprow chicken, I was happy to devour bowls of the Bangkok favourite that is mince chicken stir fried with Birds Eye chilli, garlic, basil to be had with rice. Or the soft and succulent Rendang Lamb Curry -- our favourite in the entire city! The spicy Sichuan Mapo Tofu (or chicken) is another hot favourite, and perfect for after a night of (plenty) drinking.
Pro Tip
Make sure you leave room for Avocado Parfait with gooey brownies, and matcha soil. Also Instagram it before eating!

Comments
Nearest Metro Station:

Cubbon Park