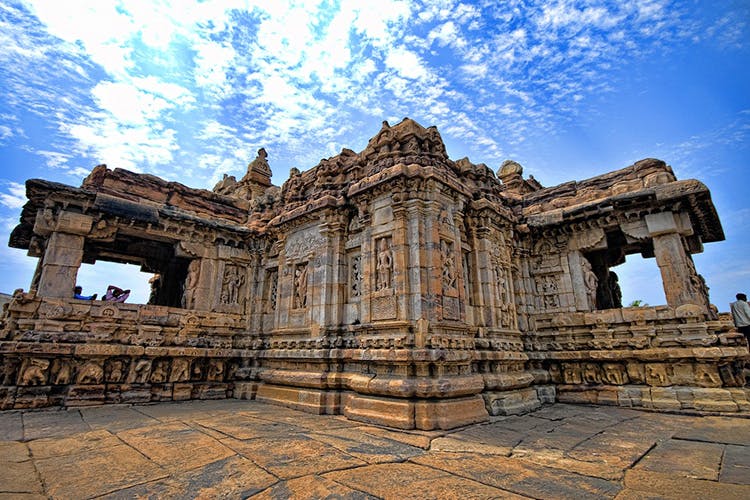 Explore The Stunning Temples At This World Heritage Site, Just 9 Hours From Bangalore
Shortcut
Love Hampi? Then, you won't be able to get enough of Pattadakal! A UNESCO World Heritage Site, the group of monuments here are centuries old and are shining examples of architecture from the Badami Chalukya era and beyond.
What Makes It Awesome
Located close to the historical towns of Badami and Aihole, Pattadakal is a town that's built on the banks of the Malaprabha River. It's perfect for a weekend exploration especially if you love history and architecture. Declared a World Heritage Site by UNESCO in the 1980s, this town hosts some of the oldest temples in the Indian subcontinent.
While it is not as famous as Hampi, Pattadakal is very much part of the tourist itinerary so getting there is pretty easy. However, we recommend you book a hotel near Badami, Hubli or Bagalkot to make the most of your getaway and to ensure decent accommodation.
Nearby Badami was the capital of the, well, Badami Chalukyas (the dynasty started off with them), however, Pattadakal was chosen for the coronation of their kings since it was considered sacred. The Pattadakal group of monuments is chiefly made of Hindu temples (dedicated to Lord Shiva) and there's a Jain one too. Start off with the Sangameshwara Temple that was built between 696 and 733 AD. Built in the Dravidian style, the walls of this gem are covered with Kannada inscriptions and renditions of Natraja. It is believed to be one of India's oldest temples.
If it's grandeur you are looking for, head straight to the Virupaksha Temple. A grand gateway welcomes you into the 8th-century edifice and you can gape at the breathtaking sculptures. The Mallikarjuna Temple nearby is a scaled-back version of this monument. Pattadakal is an architecture lover's delight because it showcases much more than Dravidian architecture. The Kashi Vishwanatha Temple, built by the Rashtrakuta dynasty, is an excellent example of the Nagara style (seen mostly in North India) while the Papanatha Temple showcases the Vesara style that combines both Dravidian and Nagara features.