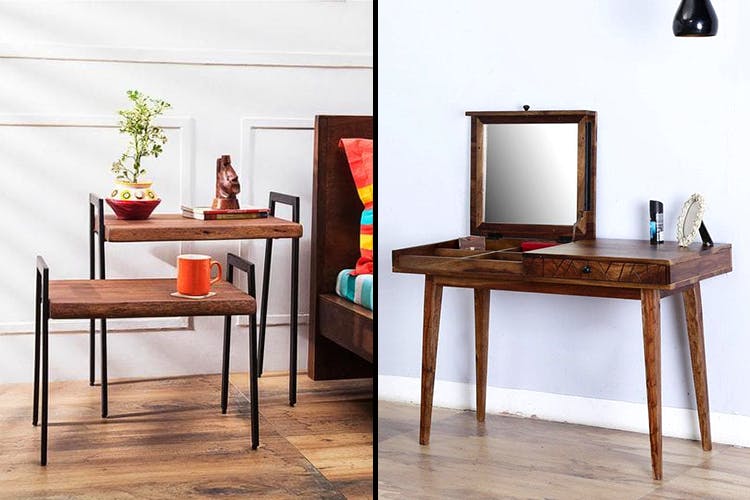 Teak Wardrobes To Picnic Tables: 10 Things We're Renting From Pepperfry Right Away
Guys! Pepperfry now does furniture rentals. So if you're low on commitment and don't want to spend a whole bunch of cash on furniture, but still want a home full if swish furniture, you know where to go. If some of Pepperfry's stylish designs have been out of reach before, now's your chance to rent it out for a fraction of their original costs. We've already made our wishlist. Here are 10 things we're renting from Pepperfry right away.
Bengalla Dining Chair
With a mango wood frame and fun patterned body that is straight out of Bohemia, this paisley print should add character to the dullest of dining tables. Maybe even get a few of these, and a few wooden ones to mix and match.
Price: INR 219/month; Rent it here.
Boyd Dressing Table in Provincial Teak Finish
A minimalist number, this desk has a few surprises, like a pull-up mirror. Much like the tables in Downton Abbey, you can keep this closed and it'll look like a perfect desk to write love letters on.
Price: INR 479/month; Rent it here.
Maritsa Wardrobe
A charming wardrobe made of sheesham wood, whether it's bed linens or your clothes, store them in style. We love how it looks old-school, but with the wood put together differently, it has an edge of modern too.
Price: INR 1,329/month; Rent it here.
Burgdorf Six Seater Picnic Table Set
Bring a bit of outdoorsy fun indoors, with this old-school picnic table that can seat six people. With benches to go, it's great when you have friends over — pizza, wine and games. Bring it on.
Price: INR 1,899 month; Rent it here.
Imogen Cushion Chair
A quirky mix of colours and patterns, this piece is sure to turn a few heads. They have a plain version too. But get this multi-coloured one as it's a trademark of Bonhomia — they bring together styles, colours and designs from different eras to give you that essential quirk factor.
Price: INR 409/month; Rent it here.
Linkin Console Table In Distress Finish
A statement piece with its contrasting blue drawers, this is quite the conversation starter. Though it looks used, it's the distressed design really, and we love it. Put it against a newly painted wall for best contrast effect.
Price: INR 699/month; Rent it here.
Oak Harbor Bar Cabinet And Counter
Stock your fine wines and liquor in this elegant bar cabinet, that's sure to impress your dinner guests. When there's no guests around, one writer with Team LBB also uses it to watch Netflix while eating dinner — it's the perfect height and space to set a laptop on!
Price: INR 909/month; Rent it here.
Kiaka Set Of Two Tables
Get creative with this set of tables in your bedroom, living room or both. One is slightly higher than the other, so you can easily use it to set up a corner of a room with differently sized decor. We're thinking trinkets from travels.
Price: INR 379/month; Rent it here.
Somerville Book Case
Give your book collection a swanky home in this cool dual tone bookcase. The top part of the case has glass, so maybe put your better collection above, while the bottom can be less neat, with office files and loose paper, perhaps!
Price: INR 1,229/month; Rent it here.
Jericho Coffee Table
This modern design will fit nicely into any home. It's three-legged and has a round top, making it quite versatile. Use it as a magazine table or just put one centre-piece on it, or even serve dessert on it, if the rest of your seating includes informal lounge chairs and bean bags.
Price: INR 349/month; Rent it here.
Comments