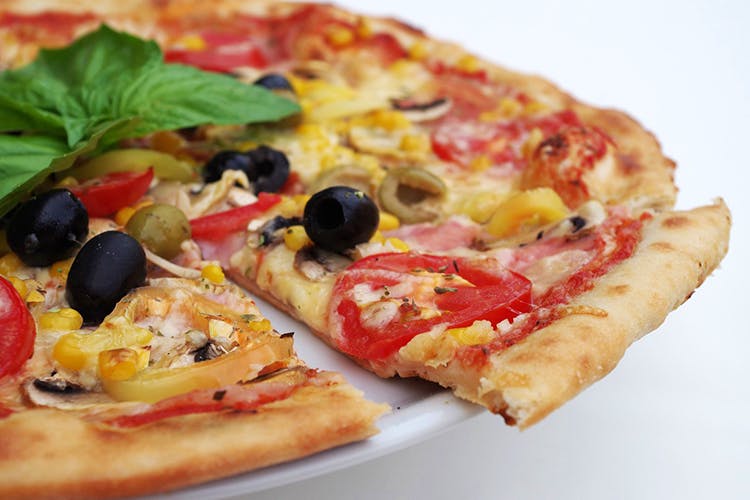 Pizza Stop's Veggie Pizzas Will Make Even Meat Lovers Jealous
Shortcut
A vegetarian's pizza heaven, this place is winning for thin-crust pizzas with toppings that range from mushrooms to asparagus. Plus, there's the cheese too!
Who Is It For?
For once, vegetarians! And since they do the pizzas so well, even non-vegetarians might want to settle for these vegetarian numbers.
What Is The Ambience Like?
They have multiple outlets which are either in a kiosk format or a sit-down eatery, but all fuss free. Don't let the Disney font, make you think less of the place. I, however, order in almost always.
Must Eat
Tobasco, Zorba, Sicilian or pick their spicy tomato versions like Manali or Bombay.
How Was My Experience?
If you have a stressful work day, this is happiness in a box. More so if you order two. The Tobasco pizza is spicy but not unbearable thanks to the sun-dried tomatoes. Zorba keeps it simple with mushrooms, cheese and garlic, so if you want a flurry of flavours, pick Sicilian. It comes with tomatoes, sun-dried tomatoes, pickled onions, mushrooms, and all of this is doused in a piquant chilli oil. Yum! Want a slice of India? Try Manali or Bombay.
Looking for Italian but not pizza? Fear not. They have a large choice of pasta too – from Arrabbiata to Pomodoro.
LBBTip
Order extra when you order in at work. It disappears before you can say Pizza Stop.
More Information
Pizza Stop
Nearest Metro Station: Indiranagar
Comments