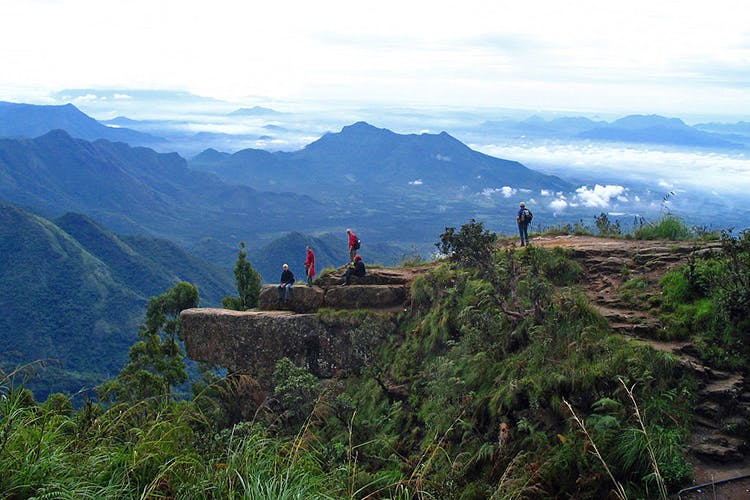 Ditch Kodaikanal In Favour Of The Nearby Unexplored Village Of Vattakanal
Planning a trip to Kodaikanal? This time around, head to Vattakanal, a scenic, comparatively unexplored village, tucked away from the now commercialised town of Kodaikanal. Often called Little Israel by the locals (due to the growing inflow of Israeli tourists in the area), the place has breathtaking meadows, gigantic trees in the valley and flowing streams, all promising you a great unwinding experience away from all the hassle and stress of the city. Not too sure what to check out here? Here's a list of five places that we suggest you not miss in this beautiful village.
Altaf's Café
Started in 2011, this cosy restaurant sits atop a cliff with crisp, fresh air and a spectacular view to complete the picture. Said to be a perfect haunt for artists, singers and writers, the cafe specialises in delicious Middle-Eastern cuisine (including Israeli specials). The yummy Falafel rolls here are what you can start with and if you're looking for a wholesome meal, then the Shakshouka (a popular Israeli egg dish) would fit the bill. While you're at it, try their Ginger Honey Tea while you take in the picturesque surroundings.
Dolphin's Nose
Up for a bit of trekking before you devour the delicacies at Altaf's? With a steep but short trail leading down to the spot, Dolphin's Nose is a flat rock jutting out of a mountain, shaped almost like a dolphin's nose. Set at an altitude of about 6,600 feet, this is where you can enjoy a brilliant (or sometimes, misty) view of the valley below, or even spot the Periyakulam town on clear days. Early morning seems to be the recommended time for the trek. Also, parents are strictly advised to keep an eye on their kids.
Karuna Farms
Described as a "natural lifestyle experience", Karuna Farms is where you can enjoy the simple joys in life. Think greenery all around, the chirp of birds and even a spot of farming (without the constant buzz of your phone!). Powered by solar energy and hydroelectric power, there are rustic rooms, huts and cottages to pick from for your stay here. Whether you choose to take up a healthy diet (cooking your own meals in the fully-equipped kitchen) or get your hands dirty with their organic farming training sessions. Plus, a community space to connect with visitors, and a vegetarian restaurant if you're looking for a wholesome meal.
Vattakanal Falls
The Vattakanal Falls, situated within a calm forest bustling with flora and fauna, makes for a nice spot to head to while you're in the village. Best visited during the monsoon season when the cascade is supposed to be in full swing, the place might make you feel like you're worlds away from the buzz of the city. If you're heading out after sundown (although it's not recommended, we must say), then make sure you calmly steer out if you spot an Indian gaur or bison, they're unlikely to attack unless provoked.
Vattakanal Tree Nursery
Organised and run by the Vattakanal Conservation Trust (set up about 25 years ago), the Vattakanal Tree Nursery focuses on the conservation and distribution of shola saplings across the village, clean up drives with the local community and much more. Ideal for a fine stroll once you're done sightseeing in the hood, the space includes a glasshouse as well a covered structure which houses rare and endangered plant species in the area.
Comments