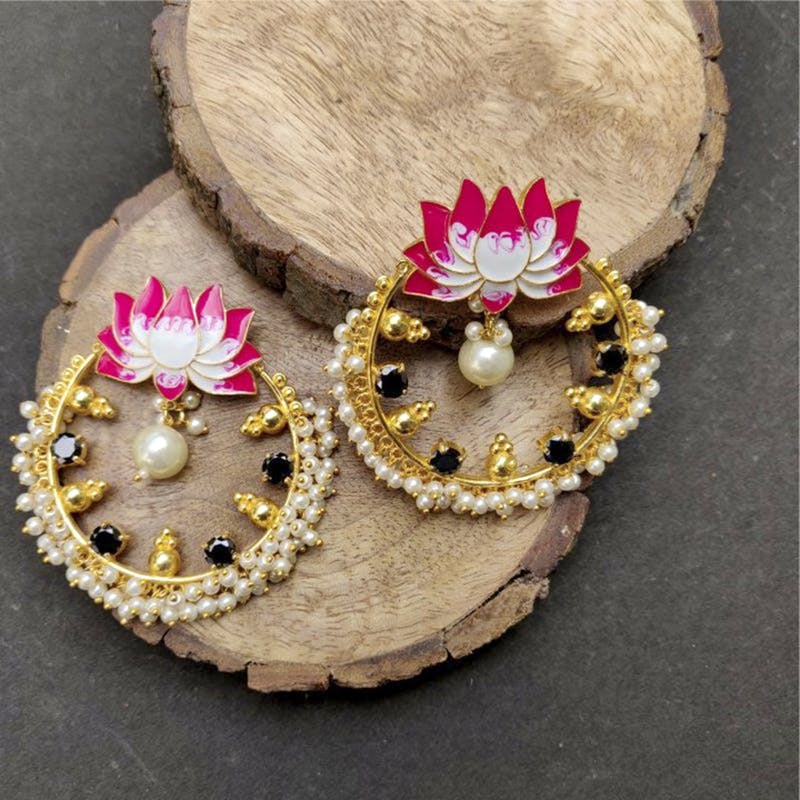 Jhumkis To Nose Rings, Here Are Our Favourite Brands For Some Heavy Indian Bling
Indian jewellery has the unique advantage of looking great on anything we wear and give us an effortlessly chic Indo-Western look. Be it silver jhumkis, or kundan and tribal inspired pieces with coins and nature based motifs, Indian jewellery can encapsulate Indian art into tiny yet significant fashion statements. Okay, we know that Commercial Street will always be the number one option for buying Indian jewellery, but in the event that you're feeling adventurous, here's our list.

Ammanya Accessories
A conceptual jewellery brand, Ammanya's collection includes, silver, gold (plated), and silkscreen printed clay jewellery with a smattering of pearls. Elegant, chic, and bound to make a statement, pick up geometric pieces, or chunky clay studs to match your ensemble (yes they take custom orders). While their biggest sellers are earrings, they do have a small number of full sets too. You can either pick up a set at one of the boutiques in Bangalore or order on their social media page.

Bellofox
While their style isn't strictly Indian, we love how versatile Bellofox's collection is. Using semi-precious stones for simple drop earrings, tassels (long metal ones and fluffy fabric ones, depending on your mood), and mixed metals their chunky earrings, bracelets and chokers are perfect to amp up the glam factor of your ensemble, whether you're going for an OTT reception look, or a sangeet friendly vibe. They also stock smart bags if you're looking.

Bhavani Kangan Store
No shopping trip for Indian jewellery is complete without a visit to Bhavani Kangan Store. With two locations in town, they have a host of intricate, and close-to-real looking temple jewellery in silver and gold plated varieties. They even rent out dance and special bridal pieces (like saree belts, hair pieces, maang tikkas and upper arm cuffs). They even have crowns and tiaras, and are pretty cheap for statement pieces as well.

Bhavya Ramesh
Bohemian lads and ladies, Bhavya Ramesh's tribal Inspired jewellery is as Indian as it gets. Using coins, trishuls, and some heavy Indian imagery in their designs, you'll have your statement piece while spreading some good vibes. Wear with Indian outfits to look like an ethnic Goddess (or God - the jewellery is gender neutral), or with Western wear to add a dash of Indian spice and heat up your look

House Of Taamara
If you live in Bangalore, House of Taamara in Koramangala needs no introduction really. If you're into exclusive designer ethnic pieces (be it jewellery or clothing) sourced from across the country, it's the best place to buy Indian jewellery. The staff is also happy to help you create an entire look should you buy more than one thing at the store. Layered kundan necklaces, funky nose pins, and chunky jhumkis to match, they're timeless!

Jivaana
Part of a bridal trousseau, need everything in a rush and don't where to go? Calmly get accessories at Jivana. More than just place to buy Indian jewellery for weddings, you can pick up jewellery for other occasions and accessories as well. For instance you can pair their gold plated madhubani jewellery with a sparkly potli bag, or juttis. Safe players can just pick up pearl sets and match it with the other accessories that they might fancy.

Olive Chest
Looking for versatile jewellery that work well for any look? Instead of frantically looking for places to buy Indian jewellery, just order something from Olive Chest. We wont lie when we say that this is fancy, and slightly expensive, but for the class and glamour it adds, it's worth it! Semi precious stones set in gold (plated), chandelier earrings, filigree work, and meenakari work are some of the designs that you can expect. And they'll give you styling tips too if you'd like!
Svapan Creations
Love Kundan? That's Svapan's speciality! Known for statement pieces dripping with pearls and drama, statement rings, or chandelier earrings anything from their collection will just eliminate the need for any other accessory if you ask us. Pieces with meenakari work also are quite the smart buy, as they go well with kurtas and more elaborate ensembles too. If we had to tell you what they're best for, it would be those days when your outfit is plain, and you're looking for just the right amount of bling to go from drab to dressy!

Ask Ahalya a question