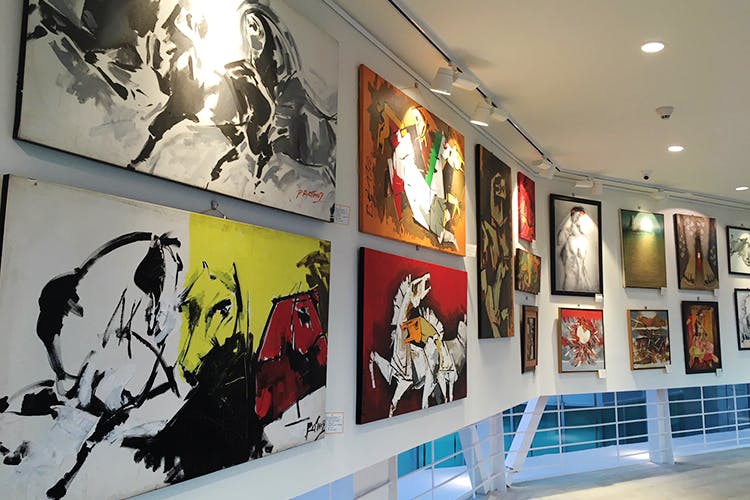 Budding Artist? Here's Where You Can Display Your Work In Town
Whether you're an established artist or a budding talent in the city, every artist needs a platform to showcase their work. From photography to sketches, we have just the right list of art cafes and galleries you can exhibit your work at. These spaces encourage as well as provide a platform for various art forms and artists spiraling their way upwards in the business, across the city.

DYU Art Cafe
Topping the list, DYU Art Café is a sure stop for all art lovers in the city. The café exhibits both international as well as local artists' work, ranging from abstract paintings and sketches to photographs. And you can do it while enjoying some great tea and banoffee pie! You can mail them your profile and work at dyuartcafe@gmail.com
Artville Café
With its quaint yet modern setting, Artville gallery and café attracts art lovers from across the city, and if you're the kind that buys art, you can even buy work featured there. The café has a dedicated wall space for both established as well as budding artists. The gallery space can be rented out by artists to showcase work and hold exhibitions If you're serious about art, check out the workshops, programs and training sessions conducted at their Art Academy.
Art Blend Café
Art Blend Café exudes art from its every wall and corner, and is a delight for both art lovers and makers, especially local artists. They exhibit works of local artists, photographers and crafters, change their exhibits every month and put up artworks and crafts for sale in the café.

Rangoli- Metro Art Center
The Metro Art Gallery was the government's conscious decision to create a space to celebrate cultural excellence through performing and visual arts. The metro center has various different places under it, including art galleries and open spaces for performances, where art of all forms can be showcased. Exhibitions are always free, and you get to see some really interesting pieces. If you're looking to exhibit, mail them your profiles and work at rangoli@bmrc.co.in

The Arts Village
A center for yoga, dance and art, The Arts Village is a beautiful retreat from the hustle bustle of the city. They have multipurpose studios you can rent out for exhibitions, conduct workshops, or even hold events at. They also have an in-house team that conducts workshops and events, should you be interested in picking up, or brushing up on your creative skills.

Art Cafe
Located on the sky bridge, The Art café is surely one of a kind in the city. They exhibit local artists' works extensively and put them up for sale as well, for affordable prices, making art more viable and accessible. The best part is that you can sip tea, enjoy art, and the view of the Orion Mall Lake all out of the sky bridge that its housed in.
Ask Bhavya a question