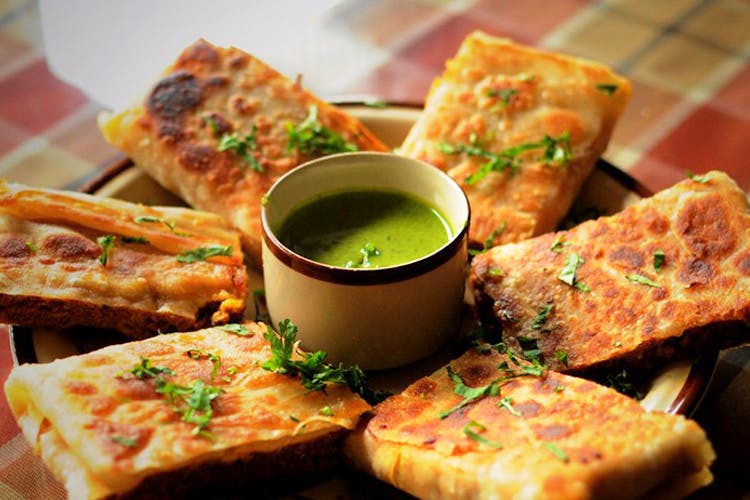 Feast Your Eyes and Fill Your Bellies With These Restaurants Near Cunningham Road
One of the most happening streets of Bangalore- Cunningham Road, has a lot more to offer than just a golf club and Carmelites. Next time you're run down and tired from scaling these streets, just pop on over to one of the many tasty delights nearby. Here's our list of the best restaurants near Cunningham Road.

Hammered
A name that Bangaloreans are no stranger to, Hammered is the perfect place to spend your afternoon, grabbing a drink with your friends. Its open spaces and rustic ambience spins a great tale of the simplicities of Bangalore. Apart from the menu that serves a wide variety of cuisines ranging from street food to a Hamptons meal, Hammered also makes dainty little drinks right out of a Cosmopolitan magazine.
Pasta Street
Too broke to ride a Gondola through Venetian canals? Here's the next best thing right in Cunningham Road. Pasta Street brings homespun Italian cooking that hopes to satisfy all kinds of palates. This family style restaurant encompasses everything there is to Italian dining- wine, pizzas and lots of pasta!

The Fat Buddha
If nothing else, the name of this restaurant alone should make you want to visit. The Fat Buddha is a Pan Asian restaurant, with interior ambience that doesn't really scream oriental, but its exterior has a sort of old school Bangalore charm to it. The must trys would be their Singapore Chilli Crab, Seaweed Spring Roll and Shanghai Rice. The Fat Buddha is perfect for Pan Asian food that is designed to please Indian tastes.
The Culinarium
This scenic café from the hilltops of Coonoor has made it all the way to the streets of Bangalore. This iconic café and dessert parlour, serves food that looks so good you'll find yourself smacking your hand every time you go in for a bite. Their vegan ice-cream has grown in popularity since the establishment was set up, and is thus a definite recommendation.
Doodle
One of the cutest spots to chill, for Carmelites, Doodle brings all kinds of cuisines at pocket-friendly prices. With quirky décor and an ecstatic college crowd, you'd never be bored in this petite and picturesque café. Their tempting menu might make you skip a class or two, and that's even if you go to college across town.
Watson's
Watson's houses a chic Victorian London themed ambience, but when you're visiting, tea isn't what you should be looking out for. The warm aura of the pub really complements the chilled mug of beer and finger food served here. The chefs here went one step ahead and incorporated Indian styles into their menu offering cheezling bhel, Andhra gun powder chicken wings and butter chicken pie.
Shezan
A Bangalore legend, this multi-cuisine restaurant in Cunningham Road will take you back decades. From Mughlai to Continental to Chinese, no matter what you're craving, this quaint little restaurant has a fix for you. This is the kind of diner that you make a routine of, having Saturday night dates, or Sunday morning family breakfasts. Make sure that even if you are filled to the briM, you must try their desserts like apple pie and kulfi.

Comments