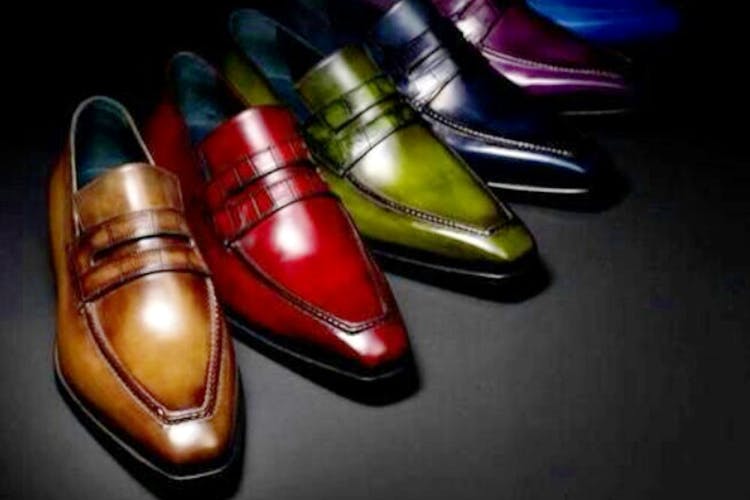 Men, Bookmark These Stores For Oxfords, Chelsea Boots And Formal Shoes Under INR 2000
Whether you are a Converse-trotting guy or believe in sneakers-only policy, owning a pair of formal shoes is a must. You don't want to be caught by your date wearing loafers to a black tie event or worse have your boss asking you to leave the meeting because flip-flops aren't 'meeting appropriate'. Don't worry, we have scouted far and wide to present you with a list of stores in Bangalore where you can pick up formal shoes for men. We have also kept things on the budget friendly side with most of the stores selling pairs for just under INR 2,000. Oh, and they also stock up on all kinds of designs — from the classic Oxford and round toes to the sleek and very The Beatles, Chelsea boots.
Lalu Dass Shoe Maker
Customised, handmade shoes are what you can score at this tiny store off Brigade Road. Catering to just about everyone from spiffy IT professionals to humble blue-collar workers, the shoemaker can whip up formal shoes and boot for men in every known design out there. And plus you can ditch the browns and blacks and go for bright colours such as blue and red. You can select from existing designs or get your own design and ask them to make it for you. In any case, prices start at INR 1,800 per pair.
Read more about Lalu Dass Shoe Maker here.
The Shoe Shop
A factory outlet/export surplus store, The Shoe Shop has an entire section dedicated to just formal shoes for men. While the collection keeps getting updated from time to time, the last time we were here, they had Oxfords, round toes, winged toes, brogues, and loafers on display. Some of the brands that we spotted included Ted Baker, Daniel Hetcher, Clarks, and Hush Puppies. There are several non-branded pairs available as well and we did spot an odd boot or two amongst the collection. The prices start at INR 750.
Read more about The Shoe Shop here.
Branded Footwear
Our favourite sneaker store for export surplus branded footwear, this shop on Thippasandra stocks up on quite a collection of men's formal shoes too. While the collection is largely made up of sizes 8 and above, we did spot an entire collection of your regular browns and black rounded footwear from sizes 6 and above. Perfect for everyday formal wear. Chelsea boots and loafers were also part of the inventory. Men, there's a lot for you to pick and choose here, and we suggest you buy a couple of extra pairs so that you have one for a black tie event, one for date nights, and one for meetings. Price starts at INR 500. While most of the pairs are non-branded shoes, we did spot Clarks, Bata, and Zara too.
Read more about Branded Footwear here.
iRich
Kammanahalli's iRich is home to really sharp dress leather shoes that's perfect for all your black-tie and formal events. Classic and quirky designs rule the racks with your run-of-the-mill colours as well as trendy ones in blues, reds, and yellows. Pick up from the latter and make a statement. Oh, and did we tell you they will also customise the shoe to your liking? Yup, no more worrying about ill-fitting shoes. They also have a collection of loafers that are brunch and summer-ready. Maybe stock up on them too? The prices start off around INR 1,000.
Read more about iRich here.
Wardy & Co.
Makers of handcrafted leather shoes since 1860, this store on Brigade Road does shoes only for men with leather sourced from Ambur in Tamil Nadu. The store's glass shelves are lined with loafers, and shoes and boots such as dress shoes, military-style boots and knee-length boots. You can either pick from their catalogue or bring in your own pattern or your old pair of shoes — expect them to get the job done. The footwear is priced at INR 1,500 upwards.
Read more about Wardy & Co. here.
Ask Sreepathy a question