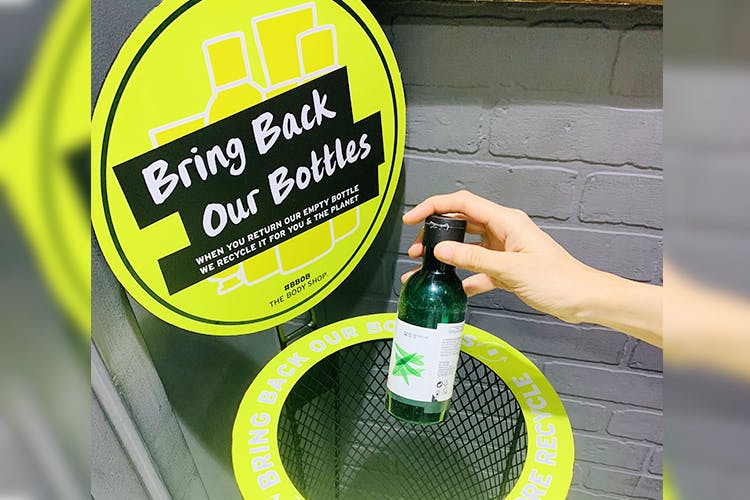 #PlasticsForChange: Here's How You Can Help The Body Shop In Their Effort Towards Curbing Plastic Pollution!
We all know plastic is harmful for the environment, right? What you don't know is 91% of the plastic waste doesn't even get recycled. The Body Shop's new initiative works towards solving this exact problem. Our favourite 100% cruelty-free, veggie brand, The Body Shop, is all set to live up to the mission of creating a beautiful world, one initiative at a time. Their association with #PlasticsForChange is focused on reducing plastic pollution throughout the globe and we agree that it is the need of the hour.

What Is It?
A very thoughtful initiative of using plastic as a means of sustainability, The Body Shop through the campaign, Plastics for Change, is buying plastic waste from the local waste-pickers community through Hasirudala Innovations to recycle it. We think this is definitely an impactful step towards curbing this global nuisance, because almost 80% of the plastic across the globe comes from five rivers of Asia! Phew.
But wait, there's more: With 1.5 million waste-pickers stuck in the unorganised cycle of poverty, this will also benefit them by providing proper wages and conducive work environment. That's why The Body Shop is launching its first Community Trade Recycled Plastic, in partnership with Plastics for Change.

How Can You Help?
Did you know that all their plastic bottles are made of 100% recycled plastic? But now they are taking it a step further. 15% of this recycled plastic will be Community Trade Recycled Plastic from India and 85% post consumer recycled plastic from European sources . One more reason to shop at The Body Shop right!
To make this campaign more effective in India, The Body Shop India has launched #BringBackOurBottles, that is revolutionizing the way we treat plastic waste in our lives. All you've gotta do is, instead of throwing out the used product bottles, give them back at The Body Shop store near you and they will be recycling them all. Bring back the brand's plastic bottles. That's it! Your two cents to make a difference to the environment. We smiled at the thought, did you?

So, We're Saying…
The Body Shop has found a way to make plastic sustainable and wants our help to make this happen. Let's make it a point to return every used plastic bottle, tub, jar and tube of The Body Shop back to their stores and do our bit towards a better tomorrow! Hit the 'Visit Site' button to get the details of how you're making a difference.
Find your nearest #BBOB activated The Body Shop Store HERE.
Comments