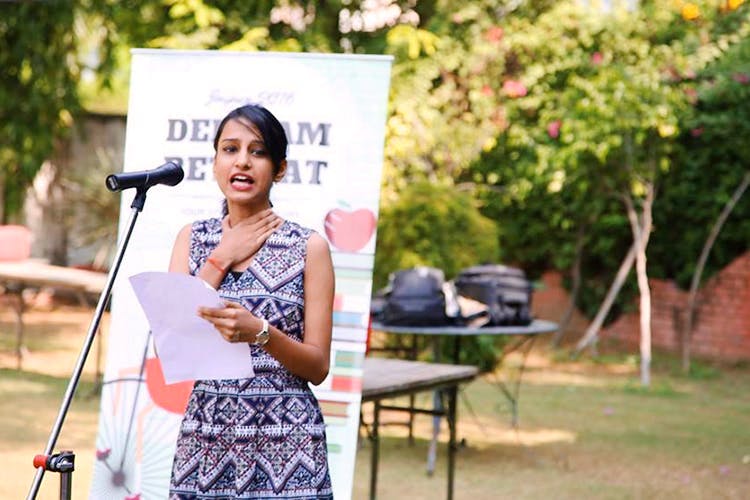 {Not So Dead} Poets Society: These Poetry Clubs In Bangalore Should Be On Your Radar
Ten-Second Takeaway
Poetry can be the most freeing of art forms. It can be private, public, or even a mix of the two. Here we bring you poetry reading clubs in Bangalore that not only serve as a space to speak out loud but also where you can have your 15 minutes of fame. Most of these places also have workshops, so check 'em out!
Poetry In The Park
Poetry in the Park is a group of poetry lovers that gather together once a month to share their best poems and reads with like-minded enthusiasts. The community is open to all those with a mutual love and interest when it comes to the timeless art form. Sitting in a circle, right under a tree, you can share your original poetry or poems by others that you love and find inspiring. Without any lingual barriers, feel free to bring poems of different languages and forms to the gathering. The poetry readings are usually followed by a quick schooling session that gives you a bit more detail and insight into the craft of poetry.
Poetry Social
Open to everyone, the community is all about providing budding poets and writers with a platform to showcase their work. It's also a way of bringing together the poetry enthusiasts in the city to share ideas, thoughts and a mutual love for the art form. Apart from open mics, the community also organises Poets On The Move, where members travel to places within a 100km from Bangalore and meet up there for a poetry session. Frequently collaborating with theatre groups in the city, you might even get the chance to see your poetry being performed live on a big stage.
Anjuman Club
Love Urdu poetry? Join in for sessions of appreciating Urdu poetry and recitation, and enjoy it in the company of like-minded thinkers, poets, artists and more. A haven for those who enjoy the nuances of Urdu culture, this club meets once a month at Atta Galatta to discuss and share poetry.
If you're a poet, and you know it – you need to grab a copy of Sharanya Manivannan's The Altar of the World.  Deeply reflective, brimming with wonder, mythic in resonance and surprisingly spiritual, these will transport you into a different world. With poems of exile, resurrection, impossible love and lasting redemption – you won't be able to put this book down!
Follow Harper Collins on Facebook, Twitter, and Instagram for more exciting information.
Comments