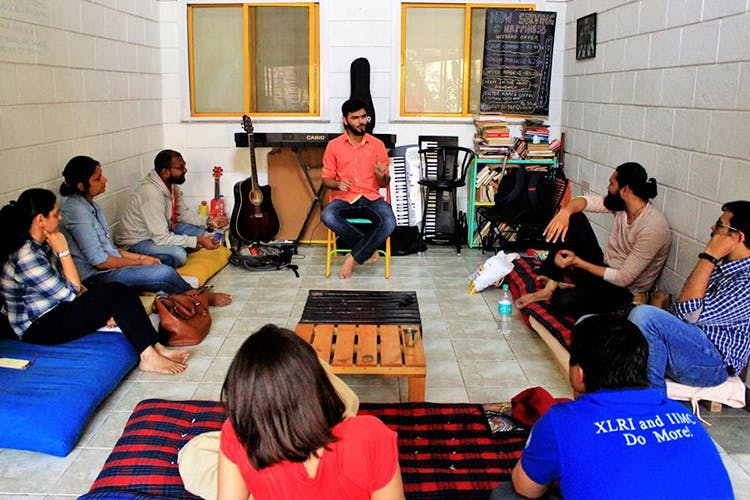 Did You Know About This Poetry Community That Organises Free Open Mics In Town?
Shortcut
Rounding up all the poetry lovers in the city for an evening of performances and great poetry, Poetry Social organises open mics and other poetry related events and activities  in the city.
Rhyme Or Reason
A Mumbai concept that's made its way down South, Poetry Social's Bangalore chapter has been around for over a year and has been organising monthly events and open mics as a community. Open to all, the community is all about providing budding poets and writers with a platform to showcase their work. It's also a way of bringing together the poetry enthusiasts in the city to share ideas, thoughts and a mutual love for the art form. Apart from open mics, the community also organises Poets On The Move, where members travel to places within a 100km from Bangalore and meet up there for a poetry session. Frequently collaborating with theatre groups in the city, you might even get the chance to see your poetry being performed live on a big stage. Although a platform for poets, poetry enthusiasts are more than welcome to be a part of this, even if they haven't written any poems of their own. Apart from spending time in the fine company of like-minded poem lovers and readers, the community will also let you discover new and different poetry and poets and explore the local poetry scene. And all their events are completely free.
Poetry Corner
Joining the community is fairly easy. All you need to do is drop them a message on Facebook here. Make sure you register yourself for their open mics and events, and if you're looking to perform at their open mics, pick your slot prior to the event. They keep their Facebook Page updated, so stay tuned to know when and where their next event is scheduled. And don't forget to bring your best work along. {Calling all brides (and their tribes!) – From clothes to gifting, get all your wedding inspiration here. #HitchedWithLBB}
Comments