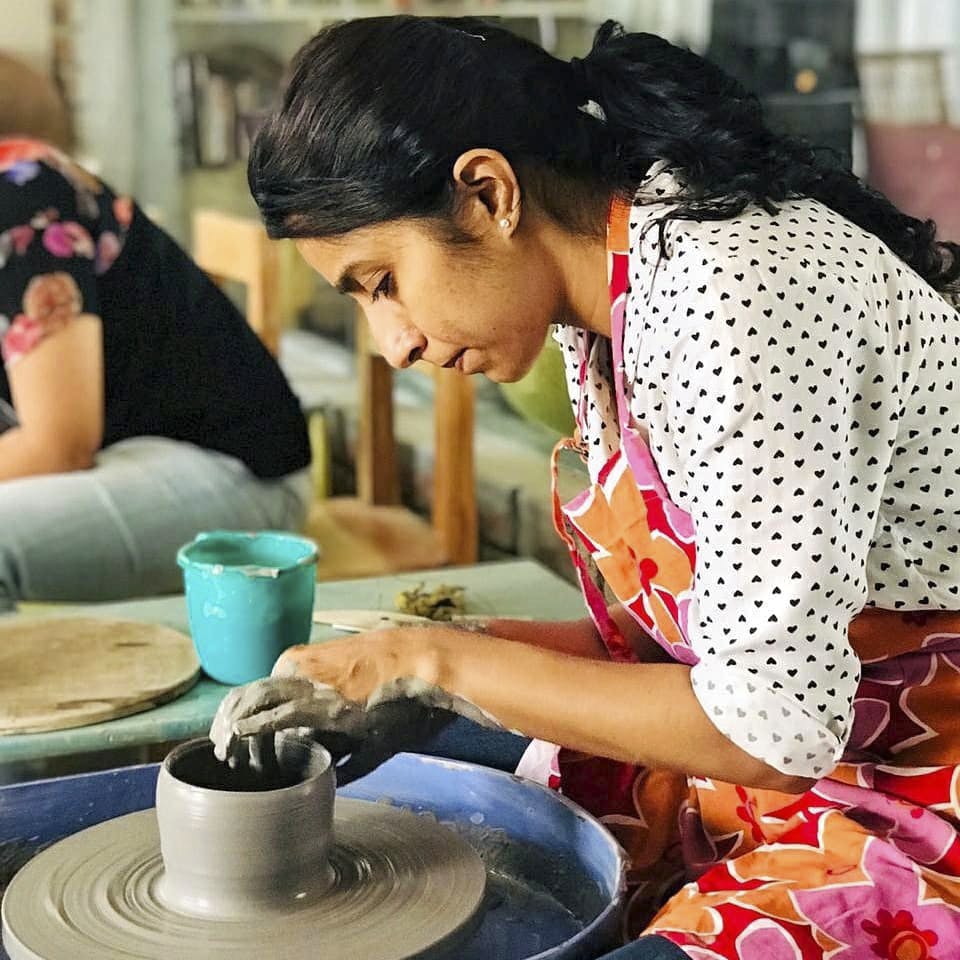 Head To These Pottery Studios Across The City
If you're looking to add some inspiration to your boring routine by learning a new skill, we suggest pottery. Not only do you pick up a skill but also get to take your own creations home to show off to the family. It's a great way to make friends who are like-minded and maybe even spend some romantic time with bae (yes, we're making a reference to the infamous pottery scene from the movie Ghost). Check out this list of pottery studios that host pottery related classes and workshops in Bangalore.
Clay Station
The folks at Clay Station in HSR Layout are experts at wheel and hand modelling. Offering weekday and weekend classes in pottery, sculpting and terracotta and stoneware jewellery, you can even wear your art. Feel free to use their 'Open Studio' to peacefully work on perfecting your skills and make most of their pottery tools available.

Oriri Studio
North Bangalore peeps, head to Oriri Studio in RMV second Stage. You don't have to trek to other parts of the city so enjoy time in this Pinterest-inspired space in your own vicinity. Feel free to participate in their pottery classes and even use the space to conduct workshops (if you're an artist). For parents, head here with your kids to spend a day dabbling in pottery classes.

Lahe Lahe Santhe
Lahe Lahe is a space for creative arts in Indiranagar (that also has an adorable cafe space). Their terrace area is an open space that is used for pottery classes. Conducting regular sessions and even a one day workshop, feel free to use the wheel and make a vase or simply hand model your piece.
Swaa Clay Studio
If you're looking to get your hands dirty making a vase, bowl or pretty much learn the art of pottery, Swaa Clay Studio is where you should be. They conduct a five-day workshop to learn all the nuances of pottery, spread across five weeks with one class per week. They also host hand-building workshops for adults that kids can sign up for too (great for bonding with your children).

Slow Pottery
Don't be fooled by the name, Slow Pottery will make you a clay expert quickly. Sign up with them for three defined levels, namely basics, intermediary and advanced levels. Each level consists of 24 sessions, which will aim to make you an expert at making crockery and pots. The classes also include a kit which is great for creating your own pieces at home.
Songs Of Summer Pottery Studio
If you've been curious about the art of ceramics, Songs Of Summer Pottery Studio in Koramangala will happily share the knowledge through pottery classes. They offer two courses - one in basic hand building while the latter is basic wheel throwing. You also get to fire them and take your creation home to show off to your friends.
The Arts Village
Located on St. Marks road, the Arts Village is a sanctuary of culture and all things artsy. Since it's located in CBD, this is a great spot to feed your creative side on weekdays as you can make a pitstop here before you head home. This is also a great way to spend a Sunday with your friends creating a piece and painting it as well!
Kalanjali The Learning Studio
Kalanjali is a learning center in JP Nagar that teaches both Indian and western forms of dance and skill. You can pick up clay modelling and pottery from here. A lot of their classes are certified so you can add them to your resume as well. They have classes scheduled through the day so you can figure what timings are convenient for you to make sure you're committed!
Ask Amrutha a question