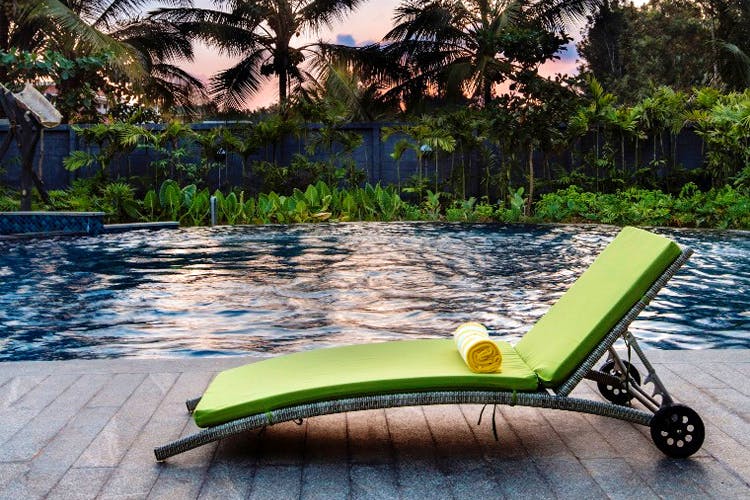 Rafting, Trekking, Swimming Or Lazing: This Coorg Resort Has Something For Anyone On Wanderlust
Shortcut
Can't make it to the real Scotland, at least make it to the Scotland of India, because Coorg really is an awesome place! More so if you check into the Purple Palms, near Madikeri.
Coorg Calling
The next time you have a few days off, I suggest you skip the elaborate plans of flying off to Sri Lanka or Singapore. Just pack your bags and your car, and drive out to Coorg. And more specifically, the Purple Palms resort in Kushalnagar. Not too far outside town, but enough to be living in the middle of beautiful plantations. The whole resort is set on hills so you can only imagine how pretty it is when the sun shines on the trees and coffee plants. Or better still when the mist hovers over it! It's magical. If you're on a bit of a budget, pick the Panorama rooms for just INR 7,500 for two. Don't grumble, this is a really plush room with a lovely view of the plantations or the swimming pool. There is also the option of the Courtyard rooms that come with an added bonus of a balcony, but I'm not the biggest fan of this. Mostly because the balcony overlooks the courtyard, which in Coorg, isn't as appealing as plantation rooms! And for a higher price, I say nay!
Suite Yourself
Happy to shell out a bit? Pick the Peaberry Suite. Sure it comes at a price of INR 13,000. But it also comes with a massive living and dining area, a balcony overlooking the garden, a bedroom and a bottle of wine. Ideal for a weekend with bae, pick this one if you plan to lurk in the room for the most part. When you want to get out though, dive right into the swimming pool, which is most refreshing during the warm days. For the love of the great outdoors, sign yourself up for a plantation trail trek. You'll hear stories of how the coffee was first planted, and the evolution of the process. Then sign up for a trek and river rafting for some added adventure. Then tuck into the hearty buffets, that are all part of the tariff.
So, We're Thinking...
If you've had enough of homestays and want a bit of luxury on your holiday, make sure you book a stay at this resort. You won't regret it.
Comments