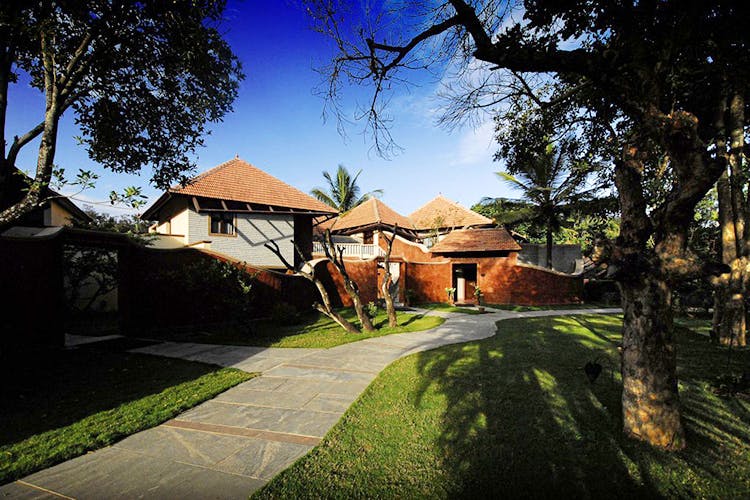 Skip The Usual Spots And Escape To These Destinations Instead
Make the most of long weekends (or just take a day off!) and head out of town for a quick getaway from all the noise and bustle of Bangalore. As usual, LBB is here with plenty of recommendations of where you can escape to and we're skipping past the obvious choices like Goa and Gokarna in this list. Without further ado, here's our list of quick trips for you to make this weekend.
Kushalnagar
We're sure that most of you have taken a trip to good old Coorg at some point. But there's more to the Scotland of India than just coffee plantations and chilly weather. Enter Kushalnagar, a little town that's bursting with culture, adventure and plenty of scenic beauty. With so much happening here, from an elephant camp to the largest Tibetan settlement outside of Tibet, your getaway will be anything but dull. Some of our favourite spots in this town are the Nisargadhama Reserve, where you can spot plenty of deer and some elephants too, and the Harangi Dam which is the perfect spot for a picnic. Check out our list of things to do, when you find yourself in Kushalnagar.
Sakleshpur
Overshadowed by the better-known hill stations around (we're looking at you Coorg and Ooty) Sakleshpur is truly an underrated getaway spot. With coffee plantations all around and cosy sweater weather, curl up with a book or take a leisurely stroll through lavish estates. Feel on top of the world by checking into Cloud Alley, a homestay that sits on top of a mountain, or take on the great outdoors by living in a lumberjack cabin at Hulivana Resort.
Want to liven things up with a bit of adventure? Stay at the Wild Wagtail Adventure Camp, which offers a mountain trek. But if you're looking for a real challenge, take on the trails in Ombattu Gudda, where thick forests, rivers and elephant will greet you along the way.
Kabini
Coracle rides, cycling tours and jeep safaris, Kabini is where it's at, folks. Perfect for a quick trip, there's plenty to do in Kabini. One of our favourite spots in Kabini is Kutta, a pretty little village that's all about mountains, coffee plantations, pepper vines and spice trails (your Instagram is going to love this one) and motorboat rides on Kabini's eponymous river are a great way to take in the sights. If you're convinced, check into any of these resorts for a memorable stay.
Bheemeshwari
If you want to rough it out in the wild, Bheemeshwari is your best bet. Nature lovers are sure to enjoy their stay here, with the mighty Cauvery flowing nearby and tall trees all around. Take on the great outdoors by living in cottages, log huts and even tents, at the Bheemeshwari Nature and Adventure Camp. What we love about this camp, is that it's always bubbling with activity, from fishing to rope walking and kayaking. Or you can lay back and enjoy a spot of birdwatching or chill in the hammocks and tyre swings that dot the camp.
Halebidu & Belur
Just on the outskirts of Hassan, these twin towns are mostly known for the many temples. So if it's a culture trip you're interested in, head on down to Halebidu and Belur. Marvel at the stunning South Indian architecture and take in the sights at hotspots like the Hoysaleswara Temple, the Chennakesava Temple and the nearby town of Shravanabelagola, with plenty of sculptures to gawk at. If you're looking for a luxe getaway, check into the Hoysala Village Resort, a place that's got all the fancy trimmings, including a hot tub and a bar on the premises.
Comments