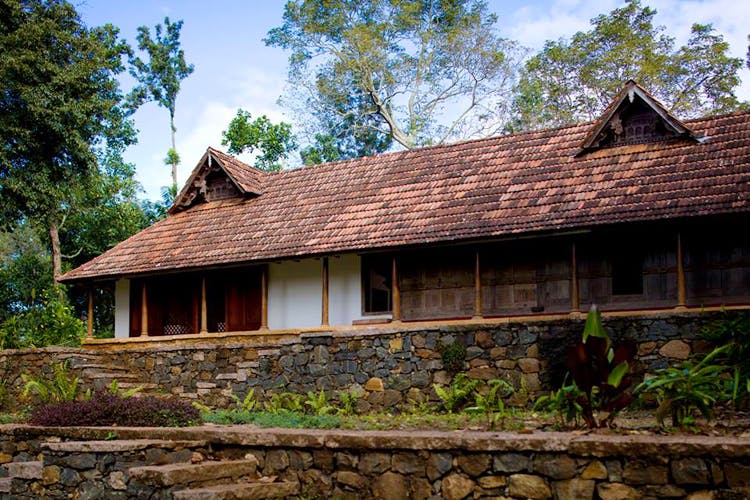 Rajakkad Estate: A 18th Century Mansion In The Palani Hills
Shortcut
Once the summer palace for Kerala's royalty, The Pallam Palace, that sits at the heart of the Rajakkad Estate, was uprooted from its original spot and set amidst the Palani Hills of Tamil Nadu. The mansion and the serene plantations that surround it now provide an escape to the weary city dweller.
Palace Dwellings
Originally built in the 18th century, the Pallam Palace started off as a summer palace to the Maharajas of Travancore. The Nelliyampathy Hills, in Kerala, surrounded the understated mansion and the architecture was typical of what we see in heritage buildings from the state. So, there were canopy roofs crafted from red tiles, elegant wooden pillars, and criss-crossing beam and carved panels.
Once kings and kingdoms became a thing of the past, the palace was bought over by a British family. The house was dismantled, each piece carefully restored, and was rebuilt in the Palani Hills. To get to the Rajakkad estate, you will now have to travel to Dilingul, which is just outside the city of Madurai, and drive up 1000 meters above sea level to reach the foothills of the Western Ghats.
Garden Variety
A charming garden hotel with just seven rooms, each done up uniquely, the Rajakkad Estate is a tranquil spot, far from the hustle-bustle. You can spend days discovering the forests and coffee estates that cover the Palani Hills.
Each room here has been made comfortable without disturbing the authenticity of the structure. White walls and black oxide floors go beautifully with the woodwork that surrounds. And you can snuggle behind luxurious quilts while catching up on your beauty sleep or while reading.
Holiday Outings
While Rajakkad Estate is not a place for hectic activity, there is still plenty to discover. The place is home to many species of birds that you can spot while lounging on your terrace. You can also spend hours exploring the vibrant villages that surround. A guide will also happily take you trekking by the river, through coffee plantations, and through canopies of trees. Excursions to nearby places of interest like Kodaikanal, Madurai, and Palani are also possible from Rajakkad.
When the hunger pangs come calling, you can head over to the in-house restaurant that puts up gourmet food, much of it made from produce found around the estate grounds. South Indian, Continental, and Mediterranean flavours rule the menu. And, of course, you can sip on surplus cups of freshly-ground coffee.
Where: Perumparai Post, Manjelparappu Branch Office, Dindigul, Tamil Nadu
Price: INR 9,000 upwards
Contact: +91 9487444333
Find them on Facebook here.
Check out the website here.
Comments