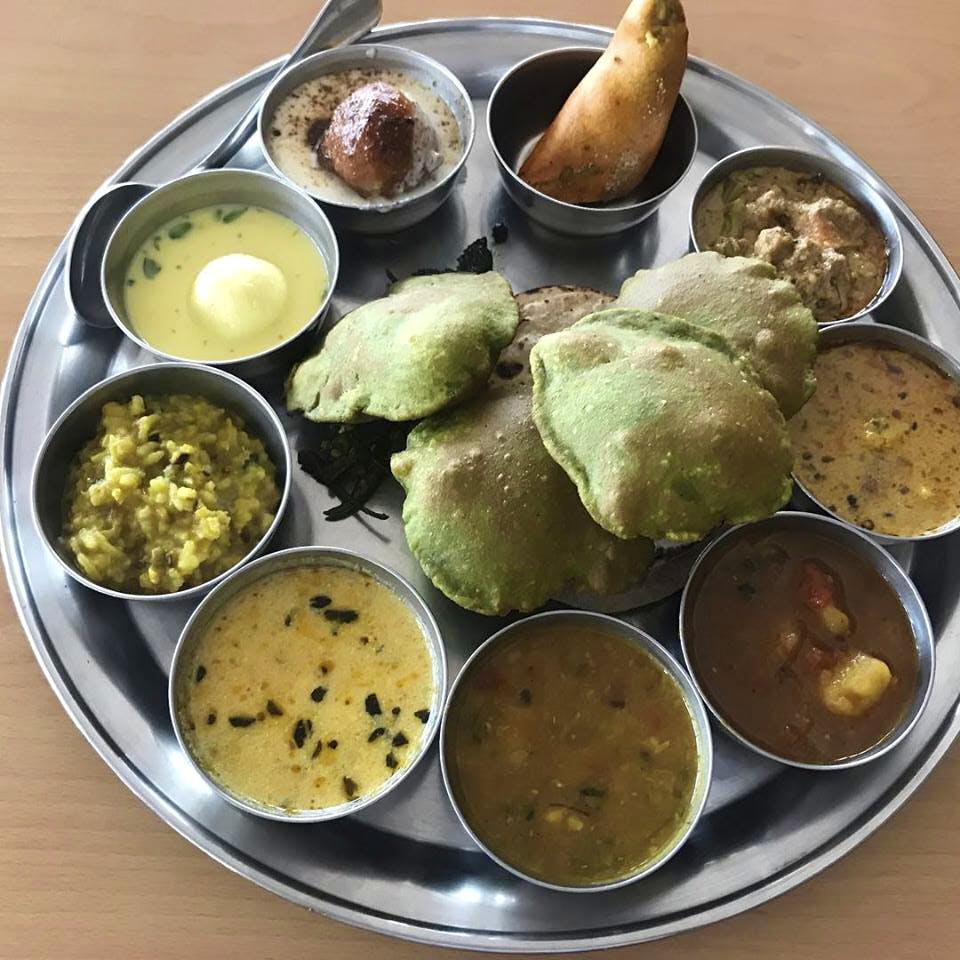 Immerse Yourself In A Royal Treat With Rajasthani Food At These Restaurants In The City
Transport yourself to the land of Rajputs with Moong dal Kachori, Mirchi Vada, Gatte Ki Sabzi, Dal Baati Churma and extensive Rajasthani Thali. From street food to extravagant thalis, we've got you covered! Get your fix of Rajasthani food with these restaurants in Bangalore.

Kesariya
Dine like the Royals at Kesariya, a Rajasthani restaurant in JP Nagar. With folk music, Shekhawati furniture and people dressed in traditional attire, the ambience is worth experiencing. They serve an extensive Rajasthani Thali with over 25 dishes from starters such as Moong Dal Ka Dhai Vada, Aloo Pakoda to traditional subzis such as Panchkutta, ghee Churma and the crowd favourite Dal Batti and Bajra Ki Keech. Kesariya with its food, ambience and service showcases true Rajasthani hospitality.

Rasovara
Rasovara in UB city should be on everyone's list who loves Rajasthani food. Known for their authenticity, Rasovara serves a wide variety of pure vegetarian Rajasthani and North Indian cuisine. From staple favourites such as Dal Batti Churma, Papad Churi, Dahi Vada to extensive Rajasthani thalis the food served here would give you a food coma. You can choose either from their ala carte menu or opt-out for their thali. We highly recommend you to try their Thali for a wholesome experience of Rajasthani cuisine.

Dal Bati Corner
If the very thought of Dal Bati makes your mouth water and kicks off those hunger pangs, then Dal Bati Corner has got your back. Located in Tippasandra, Dal Bati corner is a quaint little shop that only dal bati and a few varieties of chai. They serve DB full plate which includes four pieces of Batis, one bowl dal, one Churma Ladoo, tomato chutney and one glass of Chaas priced at INR 109. If you really can't eat the whole plate by yourself, they also serve DB half plate and DB crushed priced at INR 69 and 49 respectively. They also serve extra Bati, Churma Ladoo and Chaas. Their Khulhad Chai is a must try here and is priced at INR 15 per glass.

Bikaner Jn.
Rajasthan is known not just for their grand thalis but also for their street food. Bikaner is one of the notable places that is known for its chaats and quick bites. Bikaner Jn. located in JP Nagar brings to you the best of Rajasthani street food such as Dahi Vada, Mirchi Vada, Moong Chillda, Kachori, and Rajasthani Parotas starting at INR 20 and upwards. They also serve Samosa Chaat, Kachori Chaat and Chaatori Chaat starting at INR 40. Try their range of beverages such as Masala chai, Thandai, and Kadhai Milk. They also serve their version of Rajasthani Thali but we highly recommend the snacks served here.
RRoyal Rajasthan
RRoyal Rajasthan located in Sarjapur lives up to its name and offers a royal experience to anyone who walks in. Decorated with Jaipur blue pottery and glass tinted doors, RRoyal Rajasthan serves a wide variety of thalis that would spoil you for choice. Choose from their signature unlimited Royal Rajasthani Thali priced at INR 359 with 18 varieties of food and challenge yourself to eat it all till you drop. They also have limited meals with kher sangri, kachori and missi roti to choose from. You can also sit down on ghaddas and eat like how they traditionally do it in Rajasthan.
Rajdhani
The OG players in the game of Rajasthani Thalis, Rajdhani Kandhani Restaurant is a favourite among people of all age groups. Known for their hearty thalis, royal service and great deals, Rajdhani is a to-go place for anyone who craves a good Rajasthani/Gujarati meal. They offer unlimited thali with over 32 varieties of dishes that changes in rotation every day, leaving an element of surprise. From Dal Batti Churma to Gatte ki Sabzi with Phulkas and Aamras, they serve it all. They take the Rajasthani hospitality a notch higher and serve you until you ask them to stop.

Kota Kachori
When you think of Rajasthani chaat, Kota Kachori is the first place that is on everyone's list. With flaky Kachoris, piping hot Jalebis, Masala Chaas and Raj Kachori on the menu, this place has a lot more to offer than just street food. If you have the case of a sweet tooth, Kota Kachori satisfies those cravings with Ghewar, Jalebi, Malpua among others. Try their badam milk while you are at Kota Kachori. They also serve food such as Jaipur Thali, Kadi Pakoda, Sabu Dhana Kichdi, and Aloo Paratha.

Ask Dikshita a question