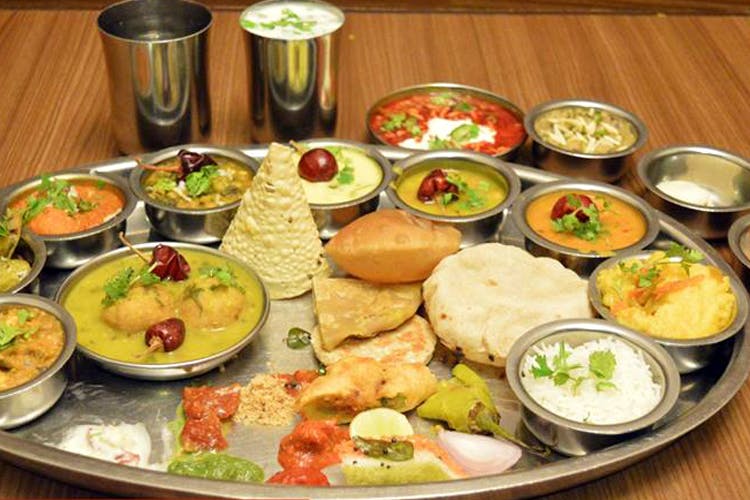 Gorge On The Best Vegetarian Thali In The City At This North Indian Restaurant
Shortcut
Rajdhani has been keeping many a vegetarian tummy happy across generations and is our go-to for their hearty thalis when we're short on cash but big on appetite.
What Makes It Awesome
A solace for homesick North Indians and anyone who loves a hearty Gujarati and Rajasthani meal, Rajdhani has been around for ages and made its way into our hearts with their wholesome thalis. With nine restaurants in the city, pop into the closest one and loosen up that belt to make room for this mega meal. It's always a pleasurable experience dining at Rajdhani. You're welcomed by their friendly staff and ushered to a comfortable dining spot. Done up simply with comfortable chairs and tables, the focus is never shifted away from their food.
An all-you-can-eat meal, it features a generous 32 dishes and seconds are always on the table. They keep switching up the dishes so it never gets boring. From different kinds of dals and curries like dal baati churma, paneer butter masala, kadi and other veggie gravies to pair with rice and many variations of Indian breads to yummy desserts (their jalebi is delicious), you'll barely have any room for seconds
With awesome deals on offer, the wallet doesn't have to always bear the brunt of your monstrous appetite. Even if you pay full price, the staff is quick to attend to an empty plate and will constantly refill it until you ask them to stop, sometimes to the point of fighting them off while insisting you have not eaten enough and will attempt to pile your plate with more food!
Pro-Tip
Our favourite is Thali Tuesday, where you can score the meal at just INR 250, as opposed to their usual rate of INR 490

Also On Rajdhani Thali Restaurant
More Information
Rajdhani Thali Restaurant
Nearest Metro Station: Indiranagar
Comments