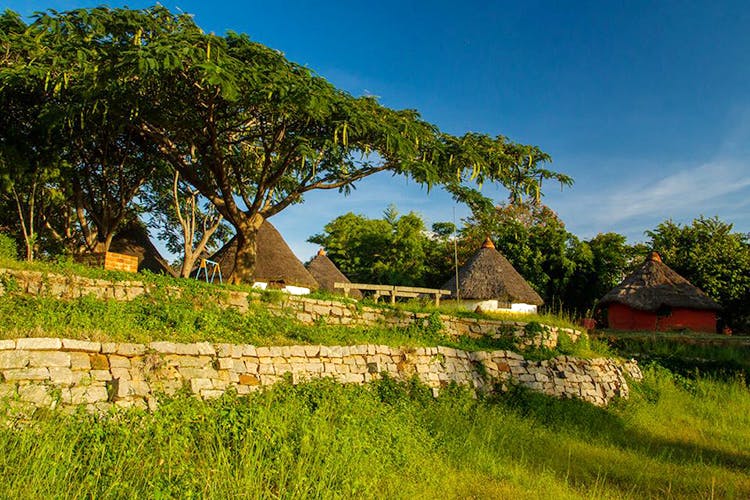 Need A Break, But Can't Leave Town? Check In To One Of These Resorts In Town
Looking for a quick getaway, but within city limits (kinda like Whitefield or E-City, but without the traffic and trouble)? There are a few resorts in town (now that we know how rapidly our city limits expand) that you can head to for a quick weekend out.

Jain Farms
Look no further than Basvangudi for a TLC within the limits of the city at Jain Farms. It's one of those hidden in plain sight type resorts, so head there for some clean air, fun stuff to do like pottery, cultural games and usual resort fare.

Ramanashree California Resort
It's a bit of a stretch (to drive), but the resort is luxurious with pools, sports facilities, and beautifully manicured greenery to help you have your fill of chilling. The resort is located in a part of Yelahanka that's close to some culturally relevant parts of town (depending on your taste of culture), so don't worry about getting bored.

Golden Palms Hotel & Spa
A five star hotel with an equally luxurious spa, you'll forget you're within city limits while you're chilling by their 130 metre lagoon shaped pool! Pretend you're at a fancy location for the weekend at all their insta-worthy spots either through your weekend there, or just spend the day if you're looking for a quick pick-me-up.

Clarks Exotica
Some of y'all might argue that it's outside the city, but Swiss Town (Devanahalli) is very much part of Bangalore's (extended) borders. The largest hotel property in town, the whopping 70 acre resort has a specially curated weekend package that offers every amenity required be it for relaxation, entertainment or pampering no matter what your age is, and amazing food to boot!

Holiday Village
The name is pretty self explanatory when it comes to the purpose of this resort we think. For a low-key vacation if you're just looking at relaxing on the lawn or by the pool, we think it's pretty great as all their overnight packages include breakfast in bed! You can also just opt for a day package with an activity filled day be it ziplining or UV paintball.

Windflower Prakruti
For a cozy, luxurious stay with bae, check into their villa, get a massage, or just chill out at this tropically themed resort. Wind down with a massage and enjoy a lavish dinner while you're at it!

Guhantara
Designed to feel like you're in a cave, Guhantara is a unique experience if you're looking to have an otherworldy experience without leaving town. Enjoy their day package (inclusive of some great food we might add), or stay the night after dancing in the rain or taking a dip in the pool for a true cave diving experience.

Comments