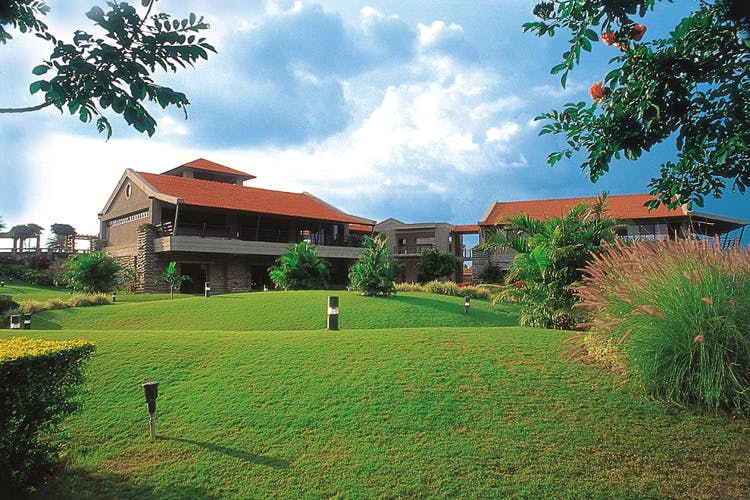 Resorts Within 50 Kilometres Of Bangalore
No time for an elaborate vacation but need the break? We understand you and have curated this list of 15 fabulous family resorts within a short drive from Bangalore. They are perfectly designed to give you a much-needed respite from the mundane. For an absolutely kids-friendly array of entertainment options, check these places out for a relaxing day trip!
Holiday Village, Off Kanakapura Road
Located off Kanakapura road, this spacious and green resort is perfect for day trips, corporate outings or even a relaxing stay-cation – their luxurious and tastefully decorated rooms will make you want to consider one.
Facilities for kids: Board Games,Beach ball, Carrom, Chess, Cricket, Foosball, Football, Library,Rain Dance, Swimming pool, Snooker, Table Tennis and UV Paintball.
Distance from Bangalore: 13kms
Ramanashree California Resort, Yelahanka
This luxurious resort situated close to the airport is a perfect choice for Bangaloreans looking for a quiet getaway. With interesting sights like the Bangalore palace and ISKCON temple in the vicinity along with the in-house facilities, you would have tons to see and do.
Facilities for kids: Badminton, Swimming pool, squash court and table tennis.
Distance from Bangalore: 18kms
Bannerghatta Nature Camp, Bannerghatta
Recreating a huge natural habitat for the big cats and species like the bears, porcupines, macaques, and exquisite birds, the Bannerghatta Nature Camp is a place that will delight the kids and adults alike. Don't miss the butterfly park while on a visit here.
Tips for kids: Wear neutral colours like green, grey, black and brown. Avoid loud colours.
Distance from Bangalore: 23kms
Golden Palm Hotel & Spa, Off Tumkur Road
A five-star resort at Tumkur, this is indeed an oasis, just an hour away from the hustle and bustle of the city. You can either plan a day outing or a weekend trip with family and kids to enjoy the multitude of entertainment options like swimming, cycling, or playing indoor/outdoor games.
Facilities for kids: Badminton courts, billiards, children's play area, fitness centre, 130m Lagoon shaped swimming pool, snooker, squash courts and tennis court.
Distance from Bangalore: 25kms
Angsana Oasis Spa & Resort
The resort, known for its sheer opulence and facilities, intertwines the greenery of Nature and modern-day facilities with aplomb. It's ideal for a fun family holiday with tons of facilities to enjoy along with great food and service.
Facilities for kids: Cricket, cycling, indoor games, swimming pool, squash court, table tennis and water activities.
Distance from Bangalore: 25kms
Mango Mist, Bannerghatta Road
Are you an green warrior? This place will charm you with its eco-friendly cottages. There's also one atop a tree! You can choose to indulge in the adventure games, or take a fish spa or just enjoy the verdant resort with its ample mango trees.
Facilities for kids: Grand swimming pool, party pool, private swimming pool with some cottages and kids pool. They also have other amenities for which you need separate adventure coupons like archery, Burma bridge, ladder climbing, land zorbing, quake walk, rock climbing, water zorbing and zipline.
Distance from Bangalore: 28kms
Olde Bangalore, Tharabanahalli
Fancy staying in a tent house, albeit a palatial one, on your next holiday trip? You don't have to go too far. Located close to the international Airport, Olde Bangalore is an ode to everything beautiful and exquisite. With a decor exuding an old charm, the spacious resort has everything to make your stay comfortable and pleasant.
Facilities for kids: Atv ride, indoor activities, swimming pool, table tennis and tent house.
Distance from Banglore: 29.5kms
Outback Farm & Homestay, Bannerghatta
Perched on the outskirts of the Bannerghatta forests is this lovely Nature resort with hills and birds for company. A relaxing weekend can be spent with family doing fishing, boating, trekking, bird-watching, and cycling. Enjoy a campfire in the cool evenings or some quiet time in rooms that have a private jacuzzi too.
Facilities for kids: Angling, trekking, nature walk, trail biking and camp fire.
Distance from Bangalore: 30kms
Wonderla Resort, Mysore Road
This water-park resort on Mysore road combines adventure, fun, and lots of aqua activities. Attached to the exciting amusement park, the hotel itself comes with a range of facilities. The stay at the resort beautifully complements the adrenaline rush at the amusement park.
Facilities for kids: amusement park, gym, kids play area, recreational room and swimming pool.
Distance from Bangalore: 30kms
Clarks Exotica Resort
This sprawling 70-acre property is the largest hotel in Bangalore offering the best of amenities and services. The resort is kids-friendly with facilities like huge cricket and football pitches, swimming pool, cycling tracks, indoor games, mini theater, DVD collection, special food menu, and even a junior spa. You could also avail of weekend packages.
Facilities for kids: Badminton, basketball, billiards, carom, chess, children's movie collection with DVD player, cricket ground, cycling, indoor squash court, foosball, playstation, mini theatre, snooker, swimming pool with slides, table tennis, tennis court, volleyball and water polo.
Distance from Bangalore: 30kms
Our Native Village, Hesaraghatta Village
If you want to truly experience living in an eco-friendly environment complete with organic food and farm activities, then Our Native Village is the place to go to. The rustic resort has aesthetically appealing, clean and spacious rooms and is also pet-friendly. The organic pool and farm animals will keep the kids entertained and energized.
Facilities for kids: Bonfire, chess, carom, cycling, kite flying, milking cows, pottery, riding bullock carts, traditional games like gilli danda, lagori, catapult and snakes & ladder.
Distance from Bangalore: 36.8kms
Rare Earth Farmstay, Kaggalipura
Worried about kids getting too involved with gadgets and moving away from the simple pleasures of life? Well, take them out to this farm stay where they get to spend their time with farm animals, pick juicy fruits and enjoy Nature.
Facilities for kids: Swimming pool, meet farm animals like ponies, dogs, geese, cows and turkeys, and fruit picking.
Distance from Bangalore: 35.8kms
Vana Resort, Kanakapura
Don't want a fancy resort yet want a comfortable stay that feels like home? This ancestral home amidst natural surroundings is your answer. Enjoy day hikes, farming, reading, or do nothing with your family in this beautiful set-up.
Facilities for kids: Adventure activities, badminton court, games, libraries, organic farming, play area, swimming pool and trekking. (Rooms do not have AC).
Distance from Bangalore: 50kms
Jain Farms, Basavanagudi
City congestion and pollution giving you the blues? Take off to an organic, eco-friendly farm that's literally at a stone's throw distance from the city, yet tucked away in beautiful surroundings to give you complete peace of mind. Plenty of activities for kids here that gives them a taste of a clean, fresh life.
Facilities for kids: Bullock cart ride, pottery, swimming pool and tambola.
Distance from Bangalore: 44kms
Angana Country Inn, Kanakapura Road
Angana is a heritage property off Kanakapura road; the ancestral home provides an old charm ambience with some fun pastime activities. The two spacious cottages overlook lush, well-maintained lawns; there's ample play area for kids along with a unique stone slide, a swing, and a charming pool and plenty of other indoor games.
Facilities for kids: Farming, kalyani swimming pool, kids play area, table tennis, traditional games and a watch tower.
Distance from Bangalore: 34kms
This post first appeared on Buzzing Bubs. Read the entire post here.
Comments