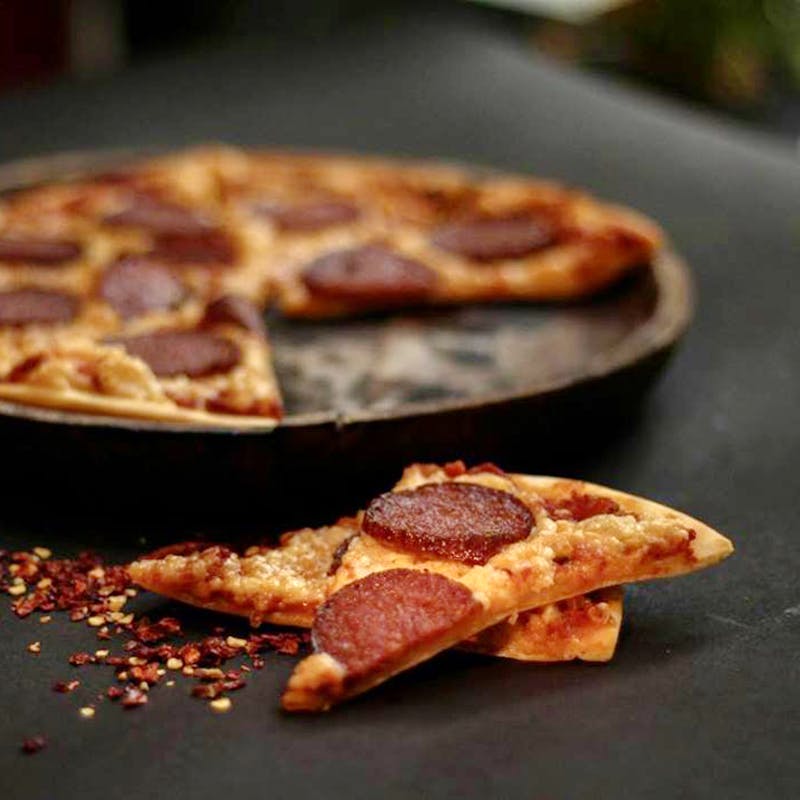 Plated, Hammered Exchange & Freskka: 8 Delicious Reasons To Head To 80 Feet Road In RMV II Stage
Indiranagar has 12th Main and RMV II Stage has 80 Feet Road. Just off the booming New BEL Road (that also has its share of great restaurants), 80 Feet Road is studded with cosy eateries, night out spots and budget restaurants. Here's our pick of the best restaurants on the 80 Feet Road in the RMV II Stage neighbourhood.

Plated
Recommended for: An inviting, little eatery on this stretch, Plated scores big points with its menu offerings. They have an eclectic mix and you can eat everything from Mangalorean to Continental. Arrive at breakfast and you can dig into Eggs Benedict and Dark Chocolate and Hazelnut Pancakes. For lunch, there's Paneer Makhani Lasagna, Braised Lamb Shanks and Dak Bungalow Chicken.
Truffles
Recommended for: Good old Truffles makes its presence felt here too! As you do at their other outlets, stick to your evergreen favourites, whether it is their Lamb Burger, the Chicken Diane or the Cordon Bleu. Don't leave without chomping on their cheesecake or without slurping down their Ferrero Rocher cold coffee.
Smoke - The Sizzler House
Recommended for: Lit up with warm lights, this steak house is a great place for a relaxed meal. The appetisers section includes Smoked Nachos, Cajun Cheese Fingers and Sizzling Buffalo Wings. You can then beef up with a Grilled Cheese Cottage Steak or Fillet Mignon Steak. Sizzlers are also part of the menu along with pastas and pizzas.
Hammered Exchange
Recommended for: For a chilled out guzzling session paired with great food, head straight here. You can sip on bar concoctions like Mistress of Spices (rum, sour mix, curry leaves and spices) or Cleopatra (bourbon mixed with a homemade syrup and chamomile). Between sips, munch your way through Chicken Sukka Golgappas, Chilli Beef and Crumbed Paneer Sticks.
Cafe Rossini
Recommended for: This laidback eatery is a great for a lunch on a budget. Their menu comes with sprinkled with familiar flavours. There's Cheese Garlic Bread and Chilly Chicken. You can also dig into Chicken Parmigiana, Schezwan Noodles, and Lamb Steaks.
Freskka
With three outlets in the city, this cafe is popular with the neighbourhood's teeny boppers and the young couples. Try their Drunken Spaghetti that comes cooked in a splash of red wine. Or their Stuffed Chicken that's loaded up with spinach, mushrooms and feta.Their Old Fashion Chicken Roast is worth a try too.
The Egg Factory
Recommended for: Can't get enough of eggs, then, stop by The Egg Factory. All-day long you can chomp on 'egg'cellent creations like their Fried Egg Sambal, Egg Burger and the Sri Lanka Curry. They also have breakfast and street food specials like Mexican Scramble and Anda Pav Bhaji.
The Waffle Yard
Recommended for: Looking for a sugar high? You'll find it right here at The Waffle Yard. Keeping things trendy, they serve Bubble Wraps paired with bananas, Nutella, brownies and whatnot. You can also sink your teeth into Waffle sandwiches and waffles on a stick.
Comments