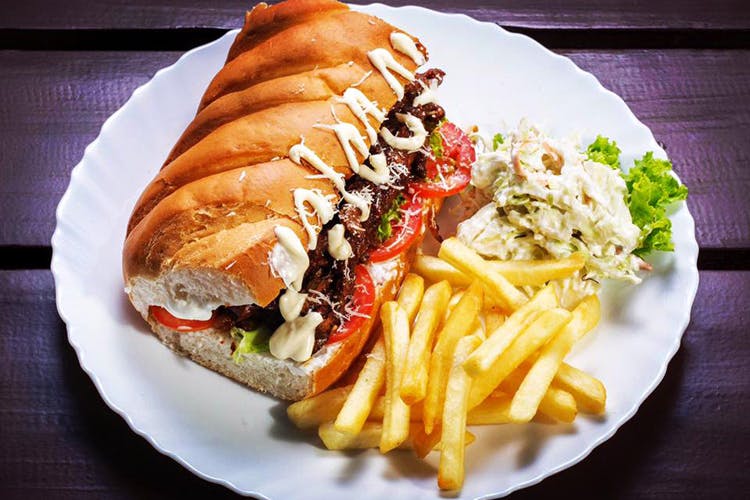 Breakfast To Beer: Eat Your Way Through The Eateries At Skywalk On Assaye Road
All of us who lived in Frazer Town, Ulsoor, Jayamahal, Richard's Town and nearby, always complained that we had to go too far for good food and fun. And then, like an answered prayer, out of the blue came Skywalk on Assaye Road. Starting out with Smally's and Watson, this building now has a whopping 7 eateries to indulge in. Naturally, we've eaten our way from the lower ground floor all the way to the fourth floor, and here's what we have to report!
Smally's Resto Café
The original tiny restaurant in the city, Smally's was the first eatery in this building. Still good for their steaks — with potato chips no less, milk shakes (surely you've tried their Brownie Shake?) and burgers, skip into this place for fuss-free fast food. But be prepared to wait, and it's exactly like its name suggests — very, very small!
Just Shawarma
Here it's either got to be the Just Shawarma (JS) Shawarma, Whole Meat Shawarma, Malgaoum Shawarma or Shawarma On Your Plate. Why? Because that is the only things on the mini menu! The JS Shawarma is our top and comes with fries and yummy toum — the traditional garlic dipping sauce.
Watson's
Another original, we love Watsons for the breezy and easygoing vibes of old-school masala peanuts, draft beer on tap and rock music from the 70s, 80s and 90s. Food is a mix of Bangalore favourites ranging from kathi rolls, pizzas and a smattering of Chinese. But who needs all that when there's the Chicken Tikkas, Chilli Chickens and Cheesy Cigars of the world on offer.
Xian
How we love ourselves some greasy, Indian Chinese food. Our favourites here include Salt Pepper Prawn, Chicken In Black Bean Sauce and the Krispy Konjee Lamb. For those around from the 90s and before, they have Dragon Rolls. Oh yes they do!
Melita Ice Creams
Every time of the year is ice cream season, especially in a country like ours. And if you also have ice cream on your mind these days, check out the new kid on the (Skywalk) block, Melita Ice Creams. They sell handmade ice creams, starting from INR 50 only! For some extra crunch, we recommend pairing your ice cream with their freshly-pressed waffle cones - you'll thank us later!
Gobble Up Churros
Yes, there's a Gobble Up Churros in Skywalk now! Head on over here for classic churros dusted with sugar and cinnamon, that you can dip in chocolate or hazelnut sauce. If you're going there with the squad, it might make sense to try their mini churros (a set of four) to try a selection, first. If you're not into churros, no biggie. They have a wide selection of Spanish tapas and treats like empanadas, patatas bravas and open sandwiches.
Mangalore Pearl
Everyone's favourite coastal restaurant has now branched out to Ulsoor! Start with the tangy Sol Kadhi and end your meal with Kokum Juice. In between, order anything from Prawn Roast Masala, Ghee Roast and Bombil Fry, and taste a little bit of coastal Karnataka in Bangalore.
Comments