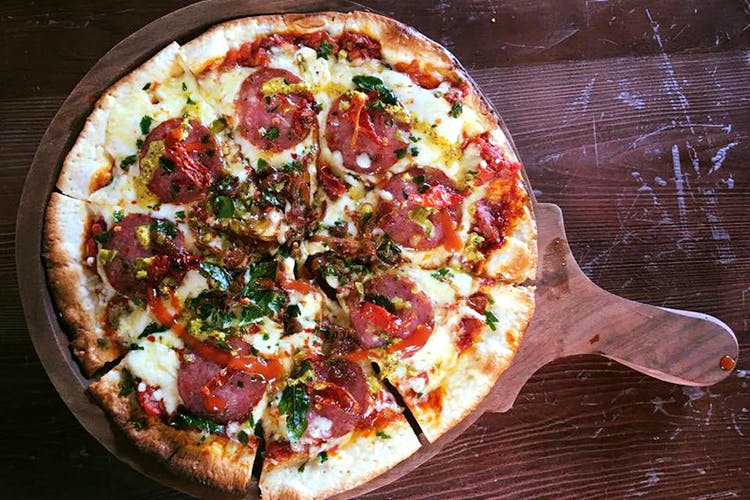 Baked Filter Kaapi, Open Air And Drinks: Say Hello To JP Nagar's Friendly Watering Hole
Shortcut
The Baked Filter Kaapi reminiscent of everything good about South Bangalore, is a good reason for you to make a pit shop at this JP Nagar resto-bar. The open-air ambience, rustic decor, and resto-pub vibes at Bottle Breacher will leave you feeling like you checked into your favourite neighbourhood bar.
Chow Down
In-house Spiced Wings, Latest Anda Pav, Grilled Chicken Pizza, Baked Filter Kaapi
Sip On
Signature cocktails, beer, and mocktails
Winning For
The Baked Filter Kaapi dessert that feels like Brahmin's Coffee Bar coffee, only better and dessert-like, the chilled out vibes, and the rooftop that offers a good view and cool breeze.
Lowdown On The Ambience
Rustic decor meets three floors of oper air and closed seating at Bottle Breacher. A dance floor is being set up as well, we hear. If at all you are checking in, the rooftop with its large seating and terrace is the perfect spot for you to park yourself with chilled beer, sangrias, and finger food. Music is commercial and thankfully not blaring out of the speakers, so a good conversation over drinks is guaranteed.
Food, Beer, And Cocktail Triple Treat
Beer snobs will find happiness in the selection of draught and bottle beer, wine lovers in the fruity sangrias, and cocktail aficionados in the signature section that includes Mango Colada and Carribean Cocorum. Topping all of this are the bar snacks like Masala Papad, the absolutely messy but yummy Chicken Wings and Latest Anda Pavs. Once you're done munching on these, you can mosey on to the mains — sliders, pizzas, pasta, sandwiches et al — for Grilled Chicken Pizza, Button Mushroom Risotto, and the rather heavy Chicken Tagine Chickpeas. Our pizzas come with extra cheese and extra toppings — always. The tagine chicken is for anyone who wants to end their booze + grub scenes feeling stuffed like a Thanksgiving turkey. Wrap up your chill scenes by ordering the sinful Baked Filter Kaapi that comes in a little steel tumbler for maximum theatrics. Coffee and baked to perfection so much that you'll order one more round.
So, We Are Thinking...
Barring the fact that parking is a bit troublesome, the food, booze, and ambience make up big time. Or you could just Uber it to this place.
More Information
Bottle Breacher
Nearest Metro Station: Jayaprakash Nagar
Ask Sreepathy a question