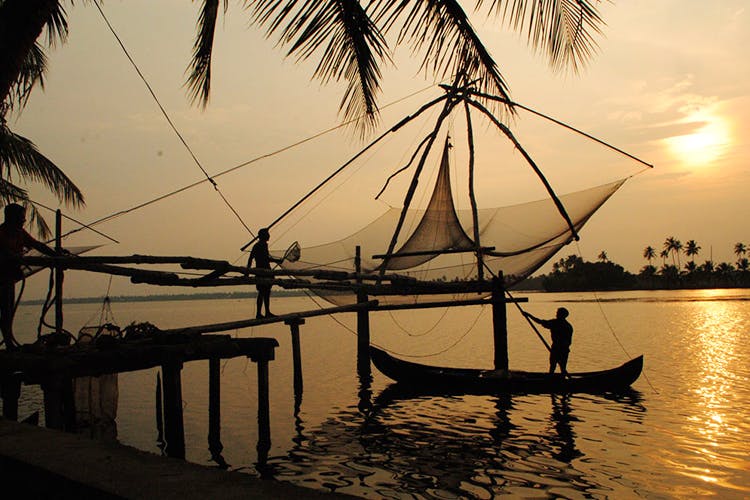 Operate Your Own Chinese Fishing Nets And Stay By The Lakeside The Next Time You Are Kochi
Shortcut
If you are heading to Kochi for a weekend, check into the Mylanthra Riverside Heritage Homestay, apparently the only one in this area. It's right next to Lake Vembanad, so you've got yourself a brilliant view of the backwaters too.
Heritage Life
Close to a century old, the Mylanthra Riverside Heritage Homestay is for anyone looking to get the real feel of old Kerala. Gabled roof, wooden ceilings, and red oxide flooring feature prominently in this heritage property that looks straight out of an architecture book. Needless to say that each window looks out onto coconut and mango trees just about everywhere. The sit-out is perfect for an afternoon siesta and come evenings, it's a spot for some catching up with the rest of your group. If you're travelling solo, owners and hospitable hosts, Basil Mylanthra and Annie Basil, will regale you with local history and stories from the past.
Adjacent to the bungalow is a riverside cottage that looks out to Lake Vembanad. You can check into the deluxe room in the bungalow or a room in the riverside cottage for your stay for about INR 2,000 per night. Inclusive of breakfast, the hosts primarily serve Kerala cuisine with a lot of seafood dishes, so be sure to load up on local cuisines for breakfast, lunch or dinner. And Annie doesn't hold back on filling you up so enjoy her excellent food and don't fuss.
On The Water
If this isn't your first trip to Kochi, then chances are you would have got yourself a couple of pictures of the iconic Chinese fishing nets that dot the Kochi's harbour and lakeside. During your stay here, you can do more than just take pictures. You can operate a Chinese fishing net and catch your own fish for the day. Imagine guys, learning the ropes and tricks to how to operate Chinese fishing net can be a new skill. Looking for a change in career, anyone?
Once you are done trying your hand at fishing, head to the nearby shrimp farm and paddy fields. The latter is a perfect place for photo-ops — a lush, green sea that's almost postcard perfect. The hosts can also arrange for a boat ride to the backwaters and nearby islands like Willingdon. Do make sure you visit Kumbalanghi, which is Kerala's first model tourism village where you can take part in activities ranging from coir making to clam meat processing and pottery to beedi making. Fort Cochin, Mattancherry, and Vypeen are also nearby and worth a visit.
Comments