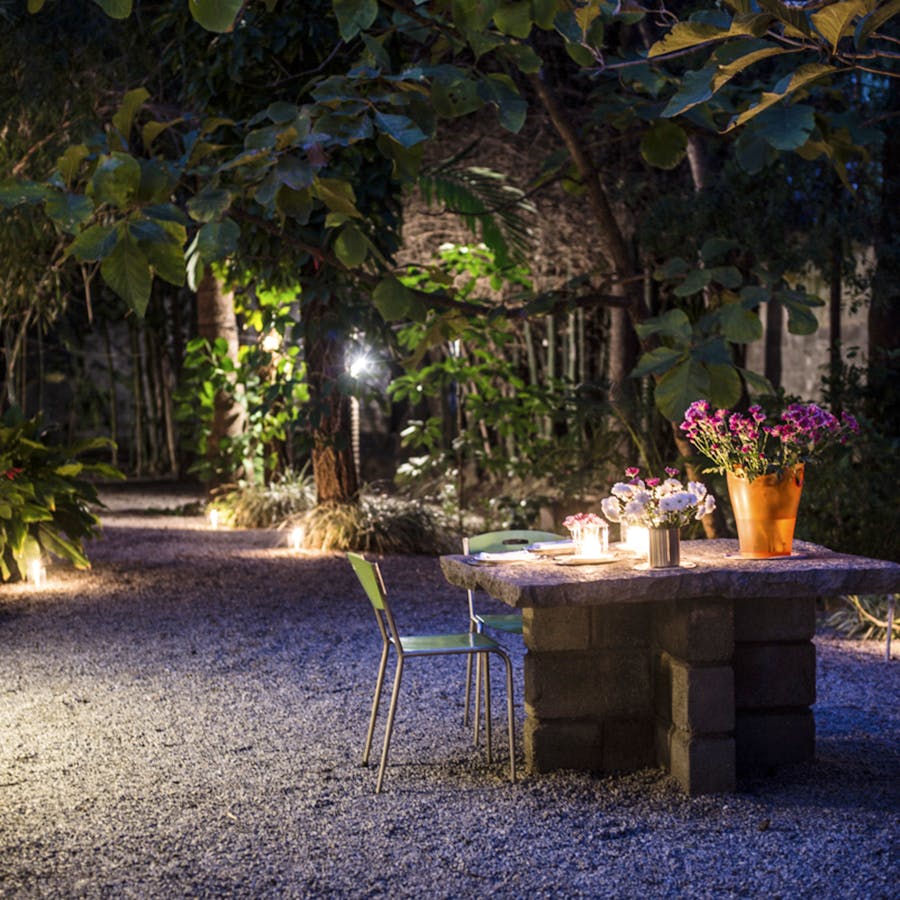 Make Sure You Feel The Love With Your Special Someone At These Romantic Restaurants In Town
Bangalore has no dearth of restaurants that offer a nice, cosy spot for a night out with your special someone. In fact, the city is buzzing with restaurants that will make your next date night is truly romantic and worthwhile. We have scouted and gone on some romantic dates ourselves to give you this guide to some of the most romantic restaurants in Bangalore.
Om Made Cafe
With a view to set anyone's mood right, a relaxed Goa-like vibe and soothing music in the background, Om Made Cafe is also one of the most romantic restaurants in Koramangala too. The setting makes for a charming date night spot, where you can sit back and enjoy your meal, and each other's company, of course. While the quiches and sandwiches will sort you out for light eats, Smoky Lamb Burger and Char Cheese Risotto might make for filling mains. If either (or both) of you are chocoholics, their OMC Mug (brownie or cookie with chocolate sauce, ice cream and pistachios/almonds) is a must-try.
RomTip: The sunsets here are dreamy, and a romantic mood is likely to ensue.
Via Milano
Anything Italian is automatically romantic, no? And the simple white and turquoise themed walls, cobblestone paths and the great weather that's typical of Bangalore — Via Milano might make you feel like you're far away from the city's buzz, in some quaint cafe in the Mediterranean country. Add to that their authentic fare and you've got the perfect place to impress your date.
Fenny's
Fenny's laidback setting with upbeat vibes is perfect for your special night or day out. Their rooftop seating has a shack-like decor and even a cute little space on a staircase landing. Perfect if you want a spot that gives you some privacy. Opt for the Lyonnaise Mushroom to begin your meal here, and follow up with the flavourful Fenny's Chicken Sizzler. While you're at it, go ahead and shake things up with your choice of cocktails from their menu. It's almost like you're in Goa, so why not let loose and pretend you are!
Grasshopper
Grasshopper might run away with the title of 'Most Romantic Restaurant in Bangalore' with its out-and-out romantic setting. The space oozes Romance 101 with gentle pools, al fresco seating with candlelit tables, fresh flowers and soothing jazz in the background while you admire the twinkling lights and the stars. It's perfect if you are looking for something exclusive, private, and custom made for your taste. You can linger over a beautiful five or seven-course meal and enjoy fine wine and the company of incredibly adorable pooches.
Alfresco By Bene
For views, Bangalore weather and that open-air ambience, there's nothing like an al fresco setting. For folks in North Bangalore who enjoy all of that
Alfresco By Bene
offers just that. Their swanky space, dotted with green, has minimal decor and your seating is either tables, bar stools, or high chairs. It can get quite chilly up here, so be sure to carry a jacket. Your view for the night is the skyline of the Malleshwaram-Rajaji Nagar region, and in the evenings, it does make for a pretty selfie backdrop.
Tiamo
When it comes to date night in the centre of town, the poolside restaurant, Tiamo, at the Conrad will win you plenty of love and brownie points. This Italian restaurant in Ulsoor overlooks the looming lake, before which the gorgeous infinity pool sets the intimate atmosphere. It's set like a rustic resort, with cabanas (featuring mood lighting and candles) to lie under during the day and dine under at night. All this adds to the romantic vibes mind you. Oh and it gets very windy, but that is reason enough to cosy up with bae.
Olive Beach
If you are looking for a cosy mood for date night, nothing like Olive Beach's setting. It's also a favourite with much-in-love couples for the pretty-as-a-picture setting, complete with white-washed walls, blue windows and doors, and the intimate nooks under the stars. The food impresses too. You and your love can feast on Mediterranean and European dishes that includes seared fillet mignon and crab cakes.
Comments