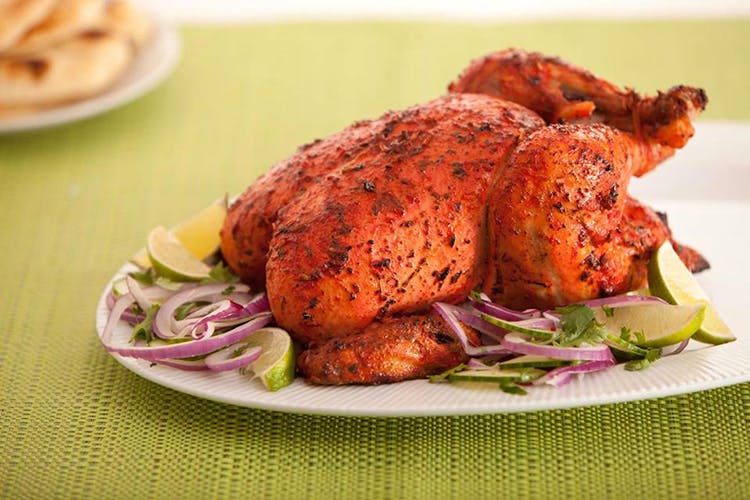 Nearest Metro Station:

M G ROAD
The Newest Kid On The Church Street Block Will Woo You With North Indian Fare
Shortcut
Another entry onto the bustling Brigade Road in the High Gates Hotel gardens, Roomali carves itself a spot amongst pizzerias, cafes, Andhra restaurants and good old Empire. And the best part, a meal for two will cost you INR 1,000. Great for fine dining, eh?
Chow Down
Nimbu Murgh, Dal Makhani, Butter Chicken and mutton biryani
Winning For...
Sticking to the basics of North Indian food, they have mastered it. Finally a place for non-fusion Indian food.
Lowdown On The Ambience
Decked out in white and royal blue, they're really trying to make it the durbar style of decor, but they've really done a good job of keeping it classy. Using colour, upholstery and a few jharokha windows, it's got a casual yet smart look. Ceiling to floor windows give a sense of space, but if you really want to sit outside, there's that option too — wrought iron tables and chairs for a cosy date.
The North Remembers
I must confess, I am not a big fan of Indian food when I go out for a meal. So when I do eat something, I want it to be authentic and soulful! What? Isn't butter chicken and dal makhani meant to soothe the soul? I think so. So, I was rather sceptical, and assumed this new restaurant, Roomali, too would give me North Indian with a twist. But hallelujah they keep it old school.
Starting with Tandoori Chicken — full, of course, that was lightly charred outside, and juicy inside. Paneer Tikkas were soft and flavourful thanks to ajwain, chilli paste and mustard oil. Yum! One interesting dish was the Nimbu Murgh — chicken cubes marinated in lemongrass instead of lime. Just that bit more fancy! Wash it down down with old-fashion thick churned lassi or even jal jeera.
Tucking In
For mains, the table unanimously decided to have butter chicken, palak paneer, dal makhani, and biryani. And boy were we in for a treat. Let me start with the divine biryani. We picked the mutton version, and the meat was so very soft, and fell off the bone with ease. Dum-cooked, it's possibly my current favourite. The butter chicken was good — as creamy as it was, redolent with spices, it hit all the right notes, and we abandoned the naans in favour of eating the chicken solo. The dal makhani was rich, and delicious, and the palak paneer also left us rather happy.
Everyone in my party was far to full for dessert, but the lovely lady at the table next to us, said the Gulab Jamoons are 'to die for'. So, I'll leave you with her wise words…
#LBBTip
The Yakhni Shorba — spicy soup made from lamb, coriander and peppercorn, must not be missed.
Comments
Nearest Metro Station:

M G ROAD