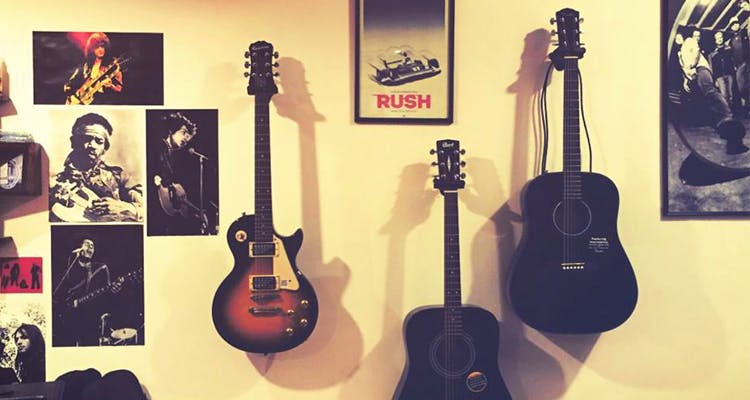 Pick The Right Note with Rooster Guitars
Shortcut
Rooster Guitars, a speciality store on Church Street, helps you choose the best guitar and also offers to teach you to strum it right.
Fade in
Right from school, Akshit Garg knew that music would play an important part in his life. He, however, went on to earn a commerce degree and an MBA (wrongfully thinking that it would give him time to concentrate on his music) before landing a job at an ecommerce site. The job, though "great", didn't hold his interest for long. And he quit to write and create music with his band. Two years later, ambitions called and the band parted ways. Akshit realised that he simply couldn't go back to a job in front of a computer. So, he became a sales manager at a  local music instruments store before starting off Rooster Guitars.
Get axed
Named after the Alice in Chains hit 'Rooster', Akshit launched an exclusive guitar store because he felt that he understands guitars the best (out of all music instruments). Whether you are a beginner or a pro, Akshit promises to hear you out, understand what you need and then sell you a guitar that suits your requirement. At the laidback store, you'll find a mix of guitars from Gibson, Ibanez, Fender, and Cort. You can also pick up an axe from the in-house brand – Rooster Guitars, that designs and manufactures them. If you are looking at something specific and they don't have it at the store, Rooster Guitars will happily find the guitar for you. Drum kits, keyboards and grand pianos can also be sourced.
Akshit also offers guitar lessons. He insists on keeping the tutorials non-rigid and non-formulaic and says that he only helps people explore the instrument through his classes. The store also hosts Rooster Sessions, an acoustic platform for budding talent. The live, unplugged performances are held at the venue every fortnight.
Where: 136, 1st Floor, Brigade Gardens, Church Street
When: 11am-9pm
Contact: +91 9886414122
Price: INR 6,000 onwards for the guitars, INR 500 per session for lessons
Find them on Facebook here.
More Information
Musical Instrument Stores
Rooster Guitars
Nearest Metro Station: M.G. Road
Comments