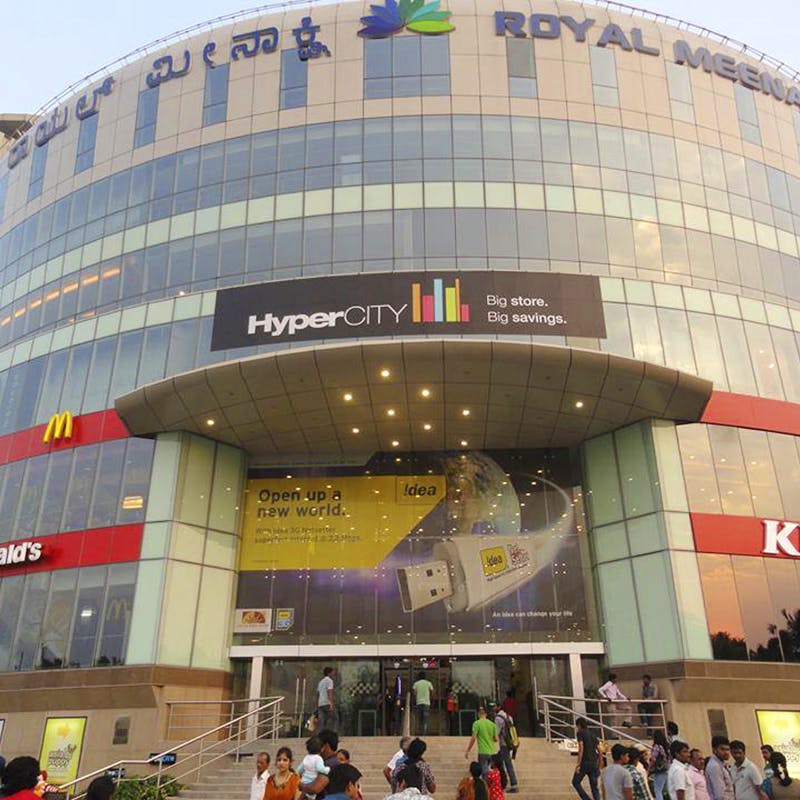 Ladies, Here's Our Guide On Where To Go Shopping At Royal Meenakshi Mall
Ladies, let's face it. If you live in and around Hulimavu and want to go shopping, there's only one place that comes to mind: Royal Meenakshi Mall. Whether it's clothing, accessories, stationery or furniture, you're bound to leave the mall with a couple of purchases at least! Here are some of our favourite picks from when we last went there:

Shopper's Stop
Literally the first thing you see as you enter the mall is a gigantic Shopper's Stop store. Head right in and check out the multitude of brands they have on offer there. From basic kurtas and heavy anarkalis to Western dresses, tops, skirts, footwear and accessories to match, there's so much to experiment with here!
Pantaloons
There's nothing more comfortable (and affordable) than one of those easy-breezy kurtas from Pantaloons, and you know it! And it's not just kurtas. You can always rely on them for VFM bags, shoes and bottoms too. Plus, all the tops and tunics with quirky quotes and graphics, cutesy shorts, chic dresses, overalls, and whatnot.

FabIndia
You know that saying - when in doubt, go to FabIndia. OK, we made that saying. But, we truly believe it! The store, like all its other counterparts across the city, is perfect for comfy, cotton clothing. We fell in love with their summer collection. They had kurtas, tops, tunics and jackets in a refreshing colour palette with Aqua, lime and coral tones.
BIBA
Our go-to brand for traditional ethnic wear, Biba is also here. Whether you're looking for floral or festive gold foil prints, anarkali suits with slim pants or asymmetric suits paired with palazzos, you'll be spoilt for choice here. Plus, they have cute Indian wear for little girls as well.

Melange
Once you start the kurta shopping, there's no stopping it, really. You might as well check out Melange while you're at it. Pick up kurtas with intricate embroidery, floral prints or intricate gold foil details (at budget-friendly prices, too). Other than kurtas, check out their salwaar sets, dupattas and long skirts! Everything screams summer and comfort.

Soch
Another hit for ethnic wear, Soch is where you should go to, to shop for a wedding in the family. Their collection (which will leave you awestruck, by the way) is heritage-oriented, so you'll find pieces inspired by traditional fabrics and patterns. From regal embroidered kurtas and salwar kameez sets to pretty lehengas, blouses and even work-wear tunics, they have it all!
Go Colours
Tired of pairing jeans with all your kurtas? Just head to Go Colours and shop for some comfy leggings instead! Rani pink, coral blue or envy green, whatever obscure colour shade you're trying to find, they will be sure to have it. And it's all super affordable too, with prices starting from INR 450!

New U
You don't have to wait until the new year to be a New U. As a bath and body care store, it's got all the important stuff like shampoos, soaps and even Korean face masks (just in case you want to try that ten-step routine you saw online). Go a little crazy and check out their mani-pedi sets, nail art, and perfume and mists, too!

Bata
We've all grown up wearing Bata and can collectively vouch for their comfort and quality. The store offers surprisingly chic flats, mules and ballerinas too, to add to your casual wear collection. Of course, you'll spot some party wear options as well as sneakers at great deals.

Metro Shoes
With multiple brands offering stylish options, Metro is a shoe haven. From strappy shoes and platform heels to everything in between, we quite liked most of their collection. In case you have big feet (like yours truly), they also stock larger than usual sizes.
Levis
Play it cool with t-shirts and jeans from Levi's. Ripped jeans, skinny jeans or mom jeans, fill your wardrobe with your favourite kind. Best buy their stuff on sale though, as denims (like everything on earth!) is super expensive!
Lee
A brand known for its jeans, Lee has a whole range of styles and fits that you might like. Plus, the staff will help you find the best fit for your body type, so rest assured you'll find something long-lasting (even if it costs you INR 2,000 a pair!).
Swagger
If you're looking for wristwatches, Swagger is the place to go to. Swatch, Esprit, Tommy Hilfiger, Guess, Fossil, Kenneth Cole and Citizen are some of the brands you'll find here!
Ask Roshni a question