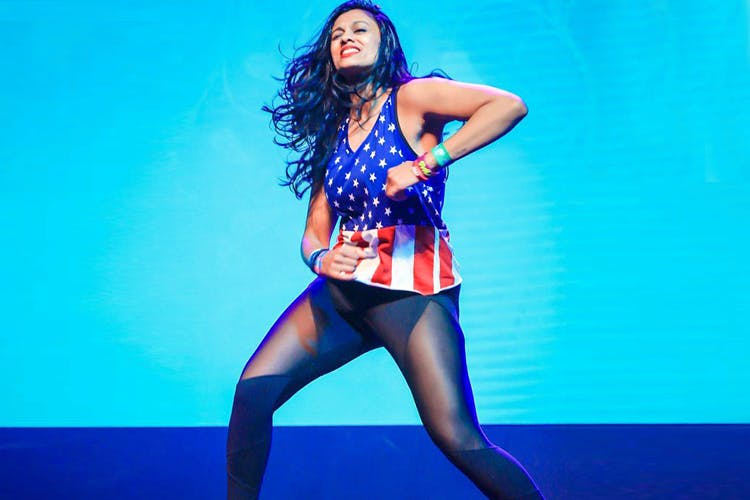 Nearest Metro Station:

Indiranagar
Looking For An Alternate Fitness Routine? Attend A Class By This Zumba Instructor Pronto
Shortcut
Instructor Sahana Jagannath will have you dancing away your fitness session with her energetic, non judgemental and inclusive way of teaching Zumba.
Chance To Dance
We happened to attend a Zumba session instructed by Sahana and were completely blown away by her energy. So we needed to know more. This Post Graduate in Space Sciences was an Information Science Engineer before she forayed into the world of fitness. Because she's a trained Bharatnatyam dancer, she wanted to find something more to her taste and went for a Zumba class — and got hooked. She soon got her Zumba Instructor License and has been helping others shake it for four years now.
Get Footloose
The minute Sahana starts her Zumba session, you'll find yourself catching some of her super contagious energy. The warm-ups to her session start with peppy popular numbers to get everyone into the mood. Even if you're just watching a session, chances are she'll get you so pumped, you'll be Zumba-ing before you know it. Sahana likes to make each of her sessions a party so she keeps the music upbeat and the energy extremely high. Since Zumba is a full cardio workout, she also ensures that you're working every single part of your body at all times. At no point will you find an arm or a leg that has nothing to do. But you need to go to her classes for how she makes it a group activity. You may think everyone's going to be dancing alone, but in one of Sahana's sessions you're very likely to find yourself partnered up for a cool-down slow dance or being divided into two teams and having a twerk-off!
Step It Up
Sahana also gets the best out of every student. If you're shy, she'll know and give you some extra attention so your form is right and you feel more connected to the rest of the class. She knows that most of her students' major concern is weight loss but she tries to get everyone to focus on being fit and strong. She takes classes at gyms all across the city so it's very likely you won't have a problem attending one. Plus, she's also a Kettlebell and Lesmills Bodypump trained instructor! Whew, is there anything we can't learn from this girl?
Find where you can attend her Zumba classes here.
Also On The Tribe Fitness Club
Comments
Nearest Metro Station:

Indiranagar
Other Outlets