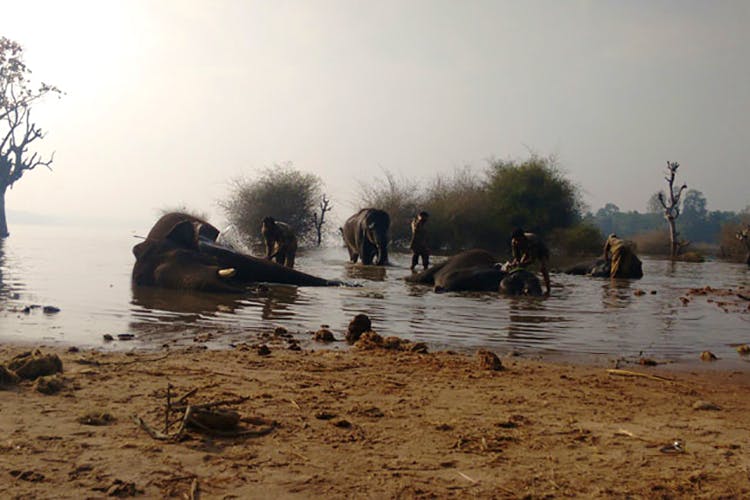 This Summer, Take Your Kiddies For A Hangout Session With Tuskers At This Camp In Shimoga
Shortcut
Your tiny tots and you can sign up for a wild ride at the Sakrebyle Elephant Camp in Shimoga. You can spend a day in the majestic company of elephants!
Jumbo Jam
Surrounded by the gurgling waters of the Tunga, the lush Sakrebyle Elephant Camp is popular with families and is a particular favourite with the kiddies. If you are planning a quick, summer getaway, we recommend a road trip to Shimoga – the Gateway to Malnad (here's a list of things you can do here). The Camp itself sits a little further away from Shimoga and is home to a Jungle Lodge so you won't have to worry much about the stay.
Slotted as an eco-tourism site, the Camp is said to the best State's best elephant training centre. Elephants that are ill, malnourished or have behavioural troubles are brought from all over the land and trained under the supervision of the mahouts. The best time to get here is in the wee hours of the morning so that you can make most of the experience.
Tusker Tales
Get there before nine and you can see elephants splashing around in the water and enjoying their daily baths. The camp's baby elephants will especially have your heart with their playful antics in the water. Do take plenty of pictures (flash photography is a no-no). And then head out to the dining area to help feed the elephants the special food that's made exclusively for them. However, do listen to instructions carefully so that your interaction goes without a glitch. Once the elephants have gone their way, you can embark on a trek in the surrounding woods.
Comments