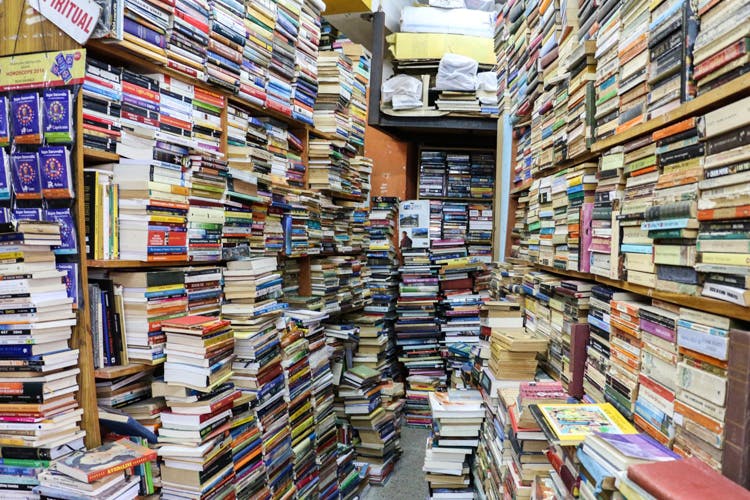 Bangalore's Secret Stash Of Indian-Language And Second-Hand Bookstores
Though we're sure there'll soon be an app to reproduce the sweet smell of old books, the one thing online retailers and ebooks can't beat is the sensation of being surrounded by books, stumbling on a new discovery or an old favourite in the sort of companionable solitude one can only find in a bookstore. Bangalore has plenty of bookstores vending English titles, but here are ten of our favourite destinations when we want to find literature in Kannada or other Indian languages.
Nagasri Book House
Most of us must trek south to Jayanagar 4th Block to arrive at Nagasri Book House, but the bookshop's wall-to-floor collection of Kannada books and personalised service makes it worth the while. Nagasri has stood steady in its quiet corner in the Jayanagar Shopping Complex since 1976, and has a stream of fourth-generation customers and newbies alike.
Sahithya Loka Book House
Sahithya Loka Book House in Malleshwaram is a store that is dedicated to Kannada books. You'll find here books by famous Kannada authors like Kuvempu and D.V Gundappa. Theyalso have a few English books by Sidney Sheldon on shelves. If they don't have the book you're looking for, they will find it for you.
Blossom Book House
A David that became the Goliath of second-hand bookstores. Blossom Book House, started by a young Mayi Gowda back in the year 2000, now occupies pride of place in the list of must-visit second-hand bookstores in the city. It's a favourite among the city's bibliophiles for good reason: three floors of books across genres and eras mean you'll never leave without a book. They also stock a selection of Kannada books, including the works of literary giant S. L. Bhyrappa. Owing to their huge collection of tomes, they also have a new outlet right across the original store.
Aakruti Books
Our city's literary landmarks aren't concentrated in the centre and the south: Aakruti Books, in western Rajajinagar, stands testimony to that. The bookstore houses Kannada fiction, graphic novels, and poetry, and also acts as a cultural venue, hosting events on themes such as music and philately.
Atta Galatta
We love this bookstore-cafe-performance venue for more than just their chock-full events calendar and the excellent brownies. Atta Galatta was set up by Subodh Sankar and Lalitha Lakshmi as a bookstore dedicated to Indian languages; it's now expanded to include everything from a range of breads (hence Atta, also the Kannada word for play) to spoken-word poetry workshops and book readings. But it's their selection of Indian-language literature that includes over 10,000 books written in Tamil, Malayalam, Kannada, Telugu and Hindi that we keep returning to.
Sapna Book House
Sapna Book House has morphed, like so many other bookstores in recent years, into a gift shop and stationery shop first and a bookstore next. But they continue to carry a valuable selection of Kannada books – from children's books and folktales to biographies and literary fiction.
Ankita Pustaka
You'll find a small but rare-to-find collection of Kannada and English books at the bookstore at Ranga Shankara. Recommended pairing: the theatre's regular Kannada programming and perhaps, a quick bite from their cafe.
Bookworm
Bookworm is the other go-to spot for second-hand books, forming quite a book trail in the MG Road area. Used and new books are all listed here with sizeable discounts, and you're likely to leave with a heavy bag of books (and a slightly lighter wallet).
Comments