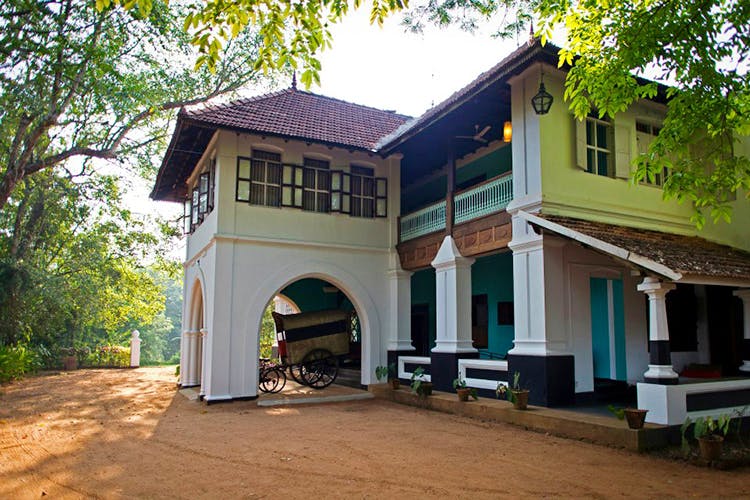 Walk With An Elephant, Chill By The Pool And Live Like A King At This Heritage Villa
If you want to lie low, stay completely off the grid but enjoy the joy of a private villa, Serenity, about half-way to Periyar from Cochin, is a real oasis. You can even chill out with Ellie when here.
What Makes It Awesome
What do you do when you want a hideaway from the city, but don't want to go too far from it? Well, they don't call Kerala God's Own Country for nothing. Naturally, just a two-hour drive from Cochin, on the way to the wilderness of Thekkady, is Serenity (so very appropriately named) – a private heritage villa. Think a tree canopy, balmy weather and a throwback to when Kanam Estate (Serenity is on this estate) was at the peak of its grandeur.
With five rooms to choose from, each with a different work of art on the wall, coir carpeting, and old-school almirahs and arm chairs, will take you back in time. Even the beds in most rooms are four-poster, and if not, then expect king-sized low-slung ones with head rests that belong in an art museum. But no matter which room you pick, the verandahs are real winners. The balcony and verandah was kitted out with a cosy diwan – perfect for a book, tea and a nap afterwards.
Food is homely and delicious. You can easily smell and taste the spices from the plantation, especially since lunch and dinner is typical Kerala cuisine. Breakfast is as you like with either local food or an English breakfast. Then, when you're done wandering, there's an in-house spa to release all those city-caused tension. Or if you prefer, just laze by the swimming pool under the rubber and coconut trees.

What Could Be Better
Don't expect air conditioning in all the rooms. They're trying to retain the original character of the 120-year-old plantation villa, so wiring the whole house is a bit tricky. Just a heads up if you're visiting in the summer.

Pro-Tip
Enjoy the company of the resident elephant, the elegant Lakshmi, who'll be happy to walk alongside you, as you meander through the plantations. Of course, you can ride on the elephant, but we'd rather just tag along and let her lead the way. She'll even regale you with a shower when she's busy having her own bath!

Comments